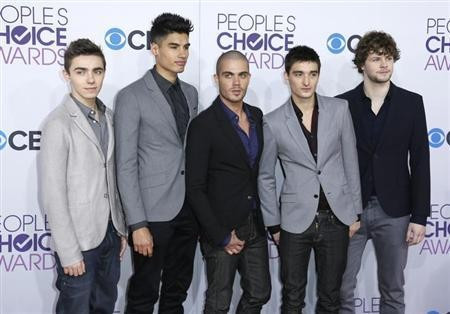 The Wanted have announced they are to split after their next tour.
In a statement posted on their website on Wednesday afternoon the British boy band comprising Max George, Siva Kaneswaran, Jay McGuiness, Tom Parker and Nathan Sykes confirmed reports that they will be temporarily disbanding in order to "pursue personal endeavours."
The statement read: "The Wanted are pleased to announce the release of their new video and single 'Glow in the Dark' taken from their November release 'Word of Mouth'.
"They are very excited to perform 'Glow In The Dark' along with their smash singles 'I Found You', 'Chasing The Sun', and 'Glad You Came', amongst others for their fans on their upcoming 'Word of Mouth Tour'.
"This tour will be their last for a while as Tom, Max, Jay, Siva and Nathan have collectively decided to take time to pursue personal endeavours following the tour's conclusion.
"The band wants to stress to their fans that they will continue on as The Wanted and look forward to many successful projects together in the future.
"They thank their fans for their continued love and support and look forward to seeing them on tour."
While fans have taken to Twitter to express their shock at the announcement, a Twitter wars has broken out with fans of rival boy band One Direction, many of whom have been revelling in the news.
"The Wanted are splitting up' *pretending to act surprised* LOOL" wrote a One Direction fan.
"At least The Wanted stayed true to themselves and didnt let anyone control them or their opinions is all i can say," retorted one irate Wanted fan.
Others managed to show some sympathy. "i actually feel bad for fans of the wanted, like i can't imagine what they're going through. I know i'd be devastated if our boys broke up," [sic] wrote a Directioner.
Sykes and Kaneswaran took to their personal Twitter accounts to acknowledge the fans saying: "We love you guys."