Waqar Younis blames Shahid Afridi for Pakistan's early exit from ICC T20 World Cup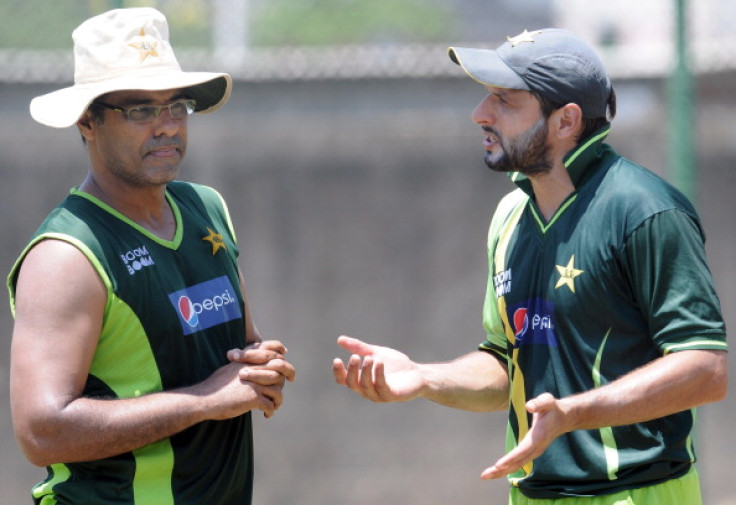 Former Pakistan coach Waqar Younis has slammed Shahid Afridi, blaming him for the team's poor form in the Asia Cup and the recently concluded ICC T20 World Cup 2016. He also asked the selection panel to drop batsman Umar Akmal from the squad, calling him "indisciplined".
In a hard-hitting report on his stint as the coach, the bowling legend laid the blame on Afridi, particular focusing on his poor form, captaincy and attitude. Pakistan's recent disastrous run in the shorter formats of the game lead to the sacking of the selection committee, while Waqar and T20 skipper Afridi resigned.
In his full report that was compiled in March, Waqar specifically mentions Akmal, Afridi and Ahmed Shehzad and asks them to stop feeding off egos.
"We lost to New Zealand, lost the Asia Cup and lost at the World T20, all due to poor captaincy. On several occasions, I had made it clear that Shahid Afridi was not performing with the bat, ball or with his captaincy. But they didn't listen me, poor tactics really cost us matches. Meetings were held after the New Zealand T20 series, where the boys emphasised that they felt confused at the captain's tactics," Waqar was quoted by Indian Express.
"Shahid Afridi did not attend meetings or practice sessions. A captain is supposed to lead from the front, not like this. He was so fixated on his own performances that he did not execute any game plan or use the right players at the right time. He appeared to be under so much pressure and was playing poorly, it reflected on the team. The whole team morale was down because they all felt pressure from the captain. No matter how many times I talk to the players, it is the captain who has to lead the boys on the field and execute plans."
While talking about Akmal, the former coach stressed that his attitude was costing the team and that if players like Andrew Symonds and Kevin Pietersen can be dropped for indiscipline then why not Akmal.
The Pakistan team will next be seen in action in July when they tour England for a four Tests, five ODIs and a solitary T20.
© Copyright IBTimes 2023. All rights reserved.