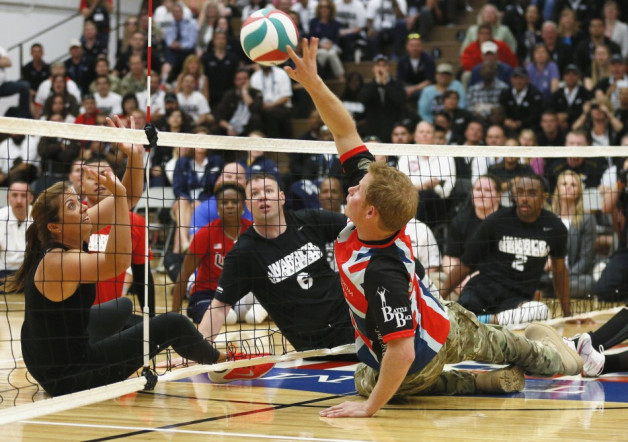 Prince Harry has said he would like to bring the Paralympic Warrior Games for injured servicemen and women to the UK.
After joining US Olympic swimmer Missy Franklin and Paralympic swimmer Brad Snyder to light the Warrior Games flame, he said that he believed that a similar event in the UK would draw huge crowds.
Almost 300 men and women wounded in battle are competing at the games in Colorado Springs, USA, which were started four years ago by the United States Olympic Committee.
Earlier Dave Henson, a 28-year-old officer from Southampton who lost both legs in an improvised explosive device blast in Afghanistan, had carried the games torch, with Harry matching him step for step before taking the torch and carrying it on stage.
Addressing spectators, he said: "I only hope in the future, the near future we can bring the Warrior Games to Britain and continue to enlarge this fantastic cause.
"I don't see how it wouldn't be possible to fill a stadium with 80,000 people, not to watch Olympics, not to watch Paralympics but to watch wounded servicemen fight it out amongst each other - not on a battlefield but in a stadium."
Afterwards he helped the UK team to victory in a sitting volleyball match against the USA.
The 400 spectators cheered as he appeared in the second set of the exhibition and high-fived team mates when he helped them claim vital points.
The games start in earnest today, and the prince is expected to start one of the cycle races and take part in an American Football demonstration.
The 35-strong UK team is funded by the charity Help for Heroes, and will compete in archery, cycling, shooting, swimming, track, wheelchair basketball and sitting volleyball.
Harry's week-long USA tour will conclude with visits to New Jersey, New York and Connecticut.