As Apple prepares to move thousands of employees into its shiny new global headquarters in Cupertino, California, one man has beaten the iPhone maker to the punch – by making the entire complex in Minecraft.
Alex Westerlund began constructing his version of Apple Park in December 2015, two years after ground was broken on the real thing, but before the circular building even had all of its floors built and external walls in place.
The Minecraft model is a 1:1 scale replica of Apple Park, meaning the main building covers 2.8 million square feet and it sits on a plot of some 175 acres. Westerlund claims her version of Park was constructed entirely by hand and took a staggering 413 hours (or over 17 days non-stop) to complete.
The project "began as a simple project," Westerlund says. But it "slowly evolved into a full time mission, with over 166 hours of work put in during the final 30 days of the project. I made it my goal to finish my version before Apple finished theirs, and I think I succeeded."
Apple is expected to begin moving employees into the building this month (April, 2017), but is yet to do so at the time of publication. The $5bn building, designed by British architect Lord Norman Foster, will eventually provide workspace to 12,000 employees.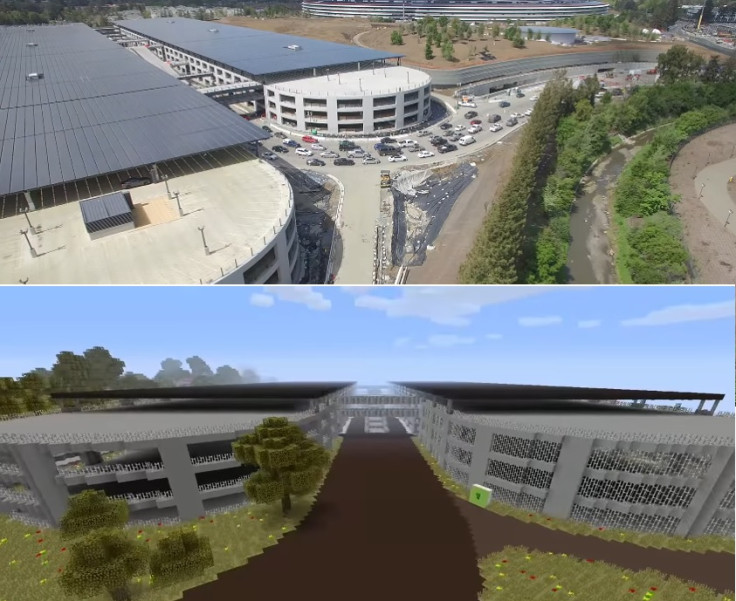 Not only is the building (including the fitness centre, athletics field, Steve Jobs theatre, atrium, cafeteria, and 14,000-space car park) accurate, but so too are the grounds surrounding it. Westerlund says: "It's terrain-accurate, based off topographical maps of Cupertino and the official landscaping plans. Each hill, path and orchard are true to the construction plans, down to the placement of each handcrafted cherry tree."
Everywhere but the office space is fully furnished, including 28 cafes and the Steve Jobs theatre, where Apple will soon begin hosting press conferences to reveal new products.
Westerlund continues: "It's the voxel [computer-based modeling] equivalent of fine art, on a scale I don't believe has ever been done before."