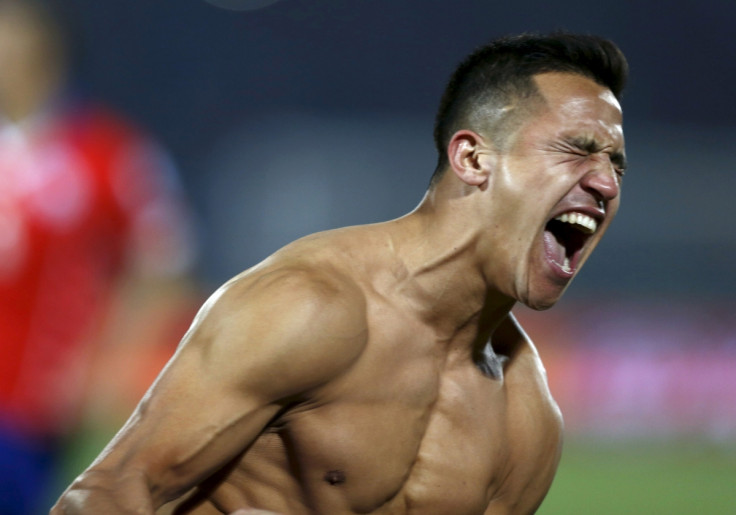 Alexis Sanchez and Laurent Koscielny will both be assessed ahead of the resumption of Arsenal's Premier League campaign against Watford at Vicarage Road. Sanchez limped out of the win over Manchester United with a hip problem but played a full part in Chile's World Cup qualifying double-header, while Koscielny has not played since the Champions League loss to Olympiacos.
Sanchez is due to return from international duty on Thursday afternoon (15 October), while Koscielny faces a late fitness test before his participation in the weekend fixture can be determined. Despite linking up with Chile after suffering an injury in the 3-0 win over United, Sanchez played 90 minutes in games against Brazil and Peru, leaving Wenger frustrated over his treatment. However, none of the other 13 players returning from games with their countries have suffered injuries during the last fortnight.
"The first step is to get everyone back into good shape because when you look around you see that some clubs lost players over the international break," the Arsenal boss explained at a press conference. "We are not full yet because some players land today in the afternoon so we have to check their fitness to see if we have no bad surprises. At the moment it look OK.
"The only thing today is Koscielny has a definite test to see if he is available or not. I am not [comfortable that Sanchez played against Brazil and Peru] but there is not a lot I can do about it. He came off as you saw against Manchester United with a hip problem, a rotator muscle, and he wants to go.
"I have to check him. he played in the last two games, we have to see when he comes back but of course it is always a tricky situation that. They play official qualifiers of the World Cup and he is an important player for them and you know that they will use him if he can. He is a guy who wants always to play so I knew that it cold be a tricky situation for us.
"We have to see what happens, how he comes back. I don't think there is a lot you can do. He played and we have to see if we have to protect him in our next game or not."
Mikel Arteta and Mathieu Flamini are both expected to be available after recovering from muscle problems suffered against Leicester City. "Arteta and Flamini will certainly be available for selection," Wenger confirmed. "So we have three players who could come back and be available against Watford and I don't think we lost anybody from our last game."
Two players who remain out for the foreseeable future are Jack Wilshere and Danny Welbeck after both players went under the knife earlier in the campaign. Wilshere is expected back in December, while Welbeck – who has not played since April – is not due to return until 2016.
"They are progressing well," the Arsenal manager added. "Jack Wilshere I think is still one month away at least and Danny Welbeck [will return at the] earliest at beginning of January."