Manchester United striker Wayne Rooney's overhead kick against Manchester City in the 2010/11 season has scooped the Premier League's Goal of the 20 Seasons Award.
The England international's stunning strike beat off competition from nine other nominated goals, earning 26% of the overall vote.
Rooney follows in the footsteps of another United great, David Beckham, whose goal from the halfway line against Wimbledon in 1996, won the Goal of the Seasons after 10 years of the Premier League in 2002.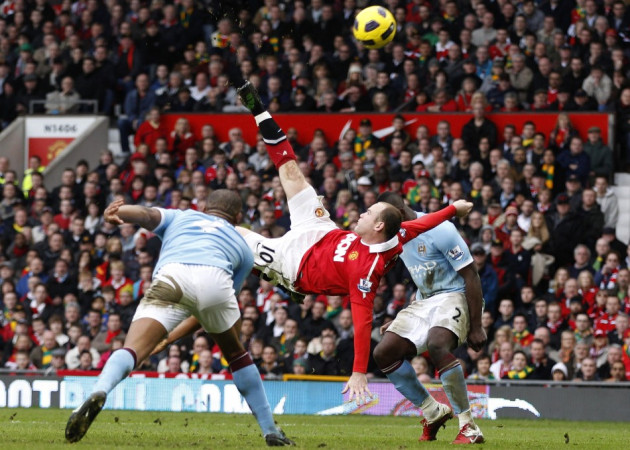 "I grew up watching the Premier League so to be voted the Best Goal in the history of the Premier League is a great feeling," said Rooney.
"There's so many good goals in that shortlist, goals that I watched in my living room as a kid: Alan Shearer's goal, Paulo Di Canio's, Tony Yeboah's, David Beckham's.
"To be competing with them and winning is a great honour for me and something I'm very proud of. I'd like to say a big thank you to all the fans that voted for me."
The England international beat off competition from Arsenal's Dennis Bergkamp, whose audacious flick and finish against Newcastle United in 2002 saw him finish second, and Thierry Henry, who finished third for his volley against United in 2000.
Berkamp won 19% of the vote, while Henry, who returned to Arsenal for a brief spell earlier this season, won 15% of the votes cast.
As many as 300,000 fans voted in the goal of the seasons category, while over 4.2m people casted votes across five categories.
The winners of the best match, save, goal celebration, and fantasy team will be unveiled over the next 12 days, while a six-man panel will debate the best player, manager, team, season, quote and fantasy team of the seasons to mark the Premier League turning 20 this year.
The celebrations culminate in a special presentation ceremony to honour the winners on Tuesday 15 May, which will also include the announcement of the Player and Manager of the 20 Seasons.