Wayne Rooney to Seek Steven Gerrard Advice Over England Captaincy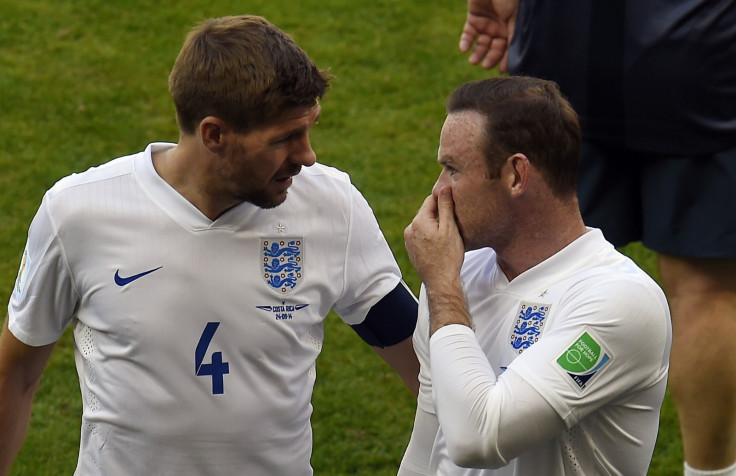 New England and Manchester United captain Wayne Rooney will ask Liverpool skipper Steven Gerrard for advice over handling the burden of the international armband.
The 28-year-old was confirmed on Thursday as the replacement for Gerrard going into the start of qualification for the 2016 European Championships.
Gerrard, who has worn the Liverpool armband since 2003, had captained England for two years before retiring from international football after the World Cup and newly-appointed United skipper Rooney wants to tap into his well of experience before assuming the role.
"I intend to speak with Steven about different aspects of the role," he told his official website. "We had a great relationship from the moment we played together for our country right up to our final game in Brazil. I am sure if I ever need to seek his advice he will be there to help."
The news caps a remarkable two weeks for Rooney, who has gone from surviving questions over both his United and England future to being named as the future captain of both teams going into the new season.
Rooney also stands on the brink of breaking the scoring records for both United and England in what could be a momentous campaign for the former Everton talent.
However, Rooney is unwilling to allow personal achievements to distract his attention from winning silverware with his country, a success he considers the only way his international career can be deemed a triumph.
"I have said previously that I will not look on my England career as a success unless we win something and that is my attitude to playing football," added Rooney. There is no point turning up unless we believe we can win."
"Obviously I will have many personal proud moments playing for England and none more so than when I walk out at Wembley for the first time as the manager's appointed captain, but collectively we want to be known as winners as all professional footballers do.
"We are now starting the cycle of two major international tournaments and reaching both finals and performing to our maximum is what we are aiming for. Anything less I personally will not see as a success."
Liverpool captain Gerrard often spoke in a similar vein during his England career, and claimed before the World Cup that he could not be viewed as a legendary figure despite being one of eight players to win over a century of caps.
© Copyright IBTimes 2023. All rights reserved.