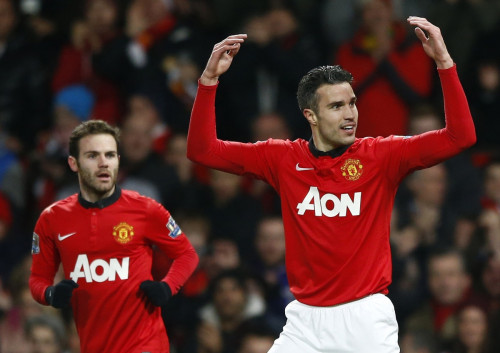 Manchester United forward Wayne Rooney has tempered suggestions the combination of himself, Juan Mata and Robin van Persie are about to set the Premier League alight, insisting the trio will need time to get it right.
The current Premier League champions broke their transfer record to sign Mata from Chelsea during the January transfer window in an effort to lift the club out of a slump that sees them 15 points adrift from the top of the Premier League and 11 behind fourth placed Liverpool.
While United's form has yet to take a dramatic upturn, the Spanish international has slotted into David Moyes' starting XI, chipping in with three assists in his first four appearances for the club.
The United boss has opted to start Mata, Rooney and van Persie in United's last three games, none of which have produced a victory but Rooney feels it is only a matter of time before the trio click.
"It's exciting. Juan has come and it's another world class player to have in the squad," Rooney told United's official website.
"It'll take time –it can always take a little bit of time for every player to gel and to bond but we really hope we can all start scoring goals and help the team be successful."
After United's third round elimination from the FA Cup, United have taken advantage of the free weekend and jetted off to Dubai for some warm weather training ahead of their visit to Crystal Palace on 22 February.
"It's nice to spend time together," Rooney added. "When you're at home you go to training then you go home and see your families, but with trips like this you're training then spending time with the lads.
It's good for us all to be together.
"It's a different environment for us and hopefully we can get some good training sessions in so we come back ready for the [Crystal] Palace game [on 22 February] and the start of the Champions League."