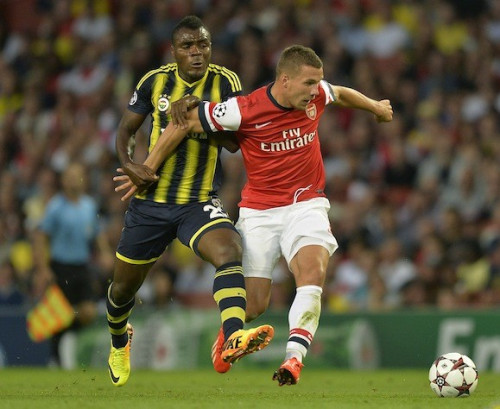 Arsene Wenger believes that Lukas Podolski will serve as a huge boost for Arsenal's attack as talk continues over whether the manager will dip into the January transfer market.
The Gunners have had to heavily rely on Olivier Giroud up front this season although the Frenchman has consistently produced, helping them to top the table for the majority of the current campaign.
Nicklas Bendtner is currently injured and his future at the club remains uncertain, but as Podolski makes his return to match fitness Wenger insists he will continue to be patient over the forward's return.
"Podolski has been out for four months and after being available, it doesn't mean you are competitive in the Premier League - it takes some time to come back," Wenger told reporters.
"He is working hard. This week he looked sharper in training, so he is getting closer now to being completely fit again."
Wenger was full of praise for the Germany international, saying he's one of the best players he's seen in front of goal.
"If there is one (player) you want to see in front of the goal in a shooting position, it is him because Podolski is certainly one of the best finishers I have ever seen," the manager explained.
"He can play that central role when he is completely fit and is one of the potential assets we have there.
"When he is physically ready, he will of course help us."
Podolski was an unused substitute last night as Arsenal took on Aston Villa and the side put in a convincing display with the 2-1 scoreline particularly kind to Paul Lambert's men.
And as the 28 year old gets back to his best Wenger will no doubt be delighted to have more options up front again.