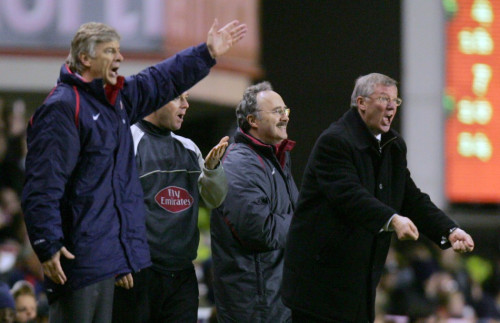 Arsene Wenger believes that Manchester United should not blame Sir Alex Ferguson's presence in the stands as reason for their poor form.
The Red Devils have failed to meet expectations this season and are currently languishing in the seventh position, nine points off the top of the table, which may go up to 11 points should Arsenal win their game against Aston Villa on Monday.
David Moyes breathed a sigh of relief after his side managed to secure their first win of 2014 against Swansea after losing to Tottenham in the league on New year's day followed by losses against Sunderland in the semi-final of the Capital One Cup and Swansea in the third round of the FA Cup.
United had won their 20th league title under Ferguson last season but the same group of players have wilted away in the start of the 2013/14 season with the Scotsman's retirement.
The 71-year-old is still an ubiquitous figure at Old Trafford, watching from the stands during most games and has been curiously blamed for their performance this season. However, Wenger is having none of it and insists that the players are the ones who should be berated for their lack of responsibility.
"Alex Ferguson was for 27 years at the club. When he appears in the stand, it is not a problem. What is the problem is the players on the pitch who can win the game, " Wenger said.
Ferguson was not present in the stands for their league game against Swansea and a win there has initiated a series of conspiracy theories which the Arsenal manager has rebuked. The Gunners have been greatly helped by United's loss in form, currently second in the league and have a chance to go back to the summit with a win over Aston Villa on Monday.
"It is the good passes that win the games. It is not the presence of somebody in the stands who loses you the games. You do not have to go overboard. The problem now is whenever Manchester United do not win a game the cameras go on Ferguson: he is the man who is missing. But I think that is the wrong problem," Wenger concluded.