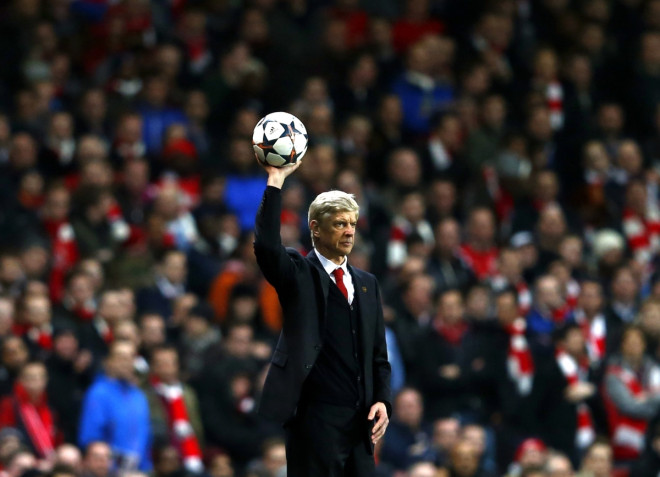 Arsenal manager Arsene Wenger was left frustrated after Bayern Munich scored two second half goals to all but book their place in the Champions League last eight.
After Mesut Ozil's early penalty was saved by Manuel Neuer, the Gunners went down to 10 men after Wojceich Szczesny was dismissed for fouling Arjen Robben in the area, though David Alaba missed from the spot.
But Bayern's numerical supremacy eventually told as first Toni Kross fired home before Thomas Muller's late header puts Arsenal on the precipice of exiting the Champions League at the last 16 stage to the German champions for a second season in a row.
"I just feel frustrated. It was a great football game until half time and it was no game at all after half time," said Wenger. "The game delivered what it promised at the start and in the second half it was not the same game.
"The regret I have is that we missed the penalty and we needed that tonight because you could see that Bayern were on the ropes at the start of the game and we had three good chances and started the game well and we needed to score that penalty tonight but Ozil missed it."
After Robben had won the penalty which saw Szczesny shown a straight red card for a professional foul, Wenger intimated that the Dutch winger had exaggerated the contact between the two players during the incident.
"I think that these rules are different in every country," the French boss lamented. "Our keeper went in genuinely for the ball, he touched Robben who made something more of it which I told him and unfortunate it complete changed the game and killed the game.
"The game was until then top quality and in the second half it was one-way traffic and there were decisions that killed the game.
"He [Robben] has enough experience to know that he made more of it. Overall I felt that Bayern made a lot of every single contact.
"We are not used to that in England. We experienced things today that we are not used to in the Premier League but we have to accept it."
Wenger admitted that he was not privy to a gesture made by Szczesny as he went down the tunnel following the red card - which could land the Poland international in hot water with Uefa - however he made his frustrations clear having made two enforced changes during the first half.
Kieran Gibbs had earlier been replaced by Nacho Monreal following a hamstring injury, and when Santi Cazorla made way for deputy 'keeper Lukasz Fabianski, Wenger only had one change remaining for the second 45 minutes.
"The regret I have tonight is, ok that is the decision that the referee made an ok Wojciech misjudged the situation but he a clear desire for the ball but we had lost Gibbs and now we lose the goalkeeper.
"We'd made two changes, down to ten men and no opportunity at all after that because if a third player gets injured so we sit there. We can not change we're down to ten men and we can't bring fresh players on, it killed the game."
After starting in Arsenal's weekend FA Cup win over Liverpool, Yaya Sanogo was given his full European debut against Bayern – the unbeaten Bundesliga leaders – ahead of Olivier Giroud.
Giroud over the weekend admitted to breaching club rules after breaking a curfew prior to the 5-1 league defeat by Liverpool, but his omission from the start in Arsenal's biggest game of the season sparked suggestions he was punished for his indiscretion.
However Wenger clarified the situation, claiming the move had nothing to do with the alleged incident.
"It was a decision based on the performance," he said. "When I played Giroud in every game people reproached me, when I rest him people reproach me. Tonight I rested him and you should be happy.
"It was not punishment, it was just a decision because in recent games. Giroud is a strong character and what happened doesn't affect him on the pitch but we decided to give him a breather and give him a chance to come back refreshed. I wanted to give the opportunity to Sanogo and I think he did very well."