Wenger Reveals Devastation At Losing Star Winger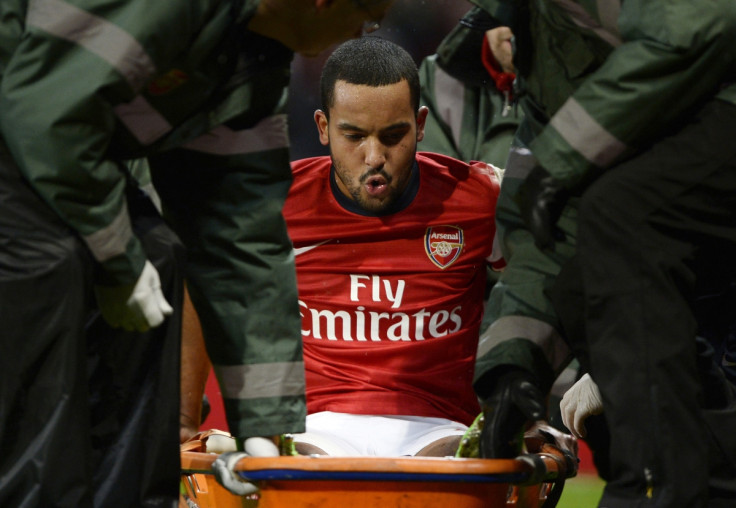 Arsene Wenger says Arsenal have lost a 'complete player' after Theo Walcott was ruled out of action for six months with an anterior cruciate knee ligament injury.
Walcott appeared in good spirits as he was stretchered off the pitch while the Gunners were playing Tottenham in the third round of the FA Cup – the winger even signalled the scoreline to the Spurs fans in retaliation to items being thrown at him – but the worst case scenario was confirmed days later.
With Walcott now out for the rest of the season and likely the World Cup, Wenger says the club have lost one of their top players who could have proven to be a game-changer as Arsenal head the race for the title.
"We lost a very talented player, a very intelligent player and a player who was just grabbing his form again," he told the Arsenal website. "From game to game he became more influential, you've seen a complete player.
"He can always decide a game through a final ball or through a goal. Sometimes in the same game he does both. I felt against Tottenham he had a very convincing performance because he integrates well our style of play as he's been here for so many years now.
"When we combine at a high pace he's involved in it because he understands exactly what we want to do."
Wenger also gave an insight into how Walcott is feeling now with the England international coming to terms with the fact that unless he makes a very early comeback from injury, he won't be able to represent his country at a World Cup until he's 29.
"Theo is handling it as well as you can when you have had such a shock because he's mentally strong, he's very balanced as a person and he can put it into perspective," Wenger explained.
"We know that he will have the dedication and the serious attitude to come back as strong as ever."
© Copyright IBTimes 2023. All rights reserved.