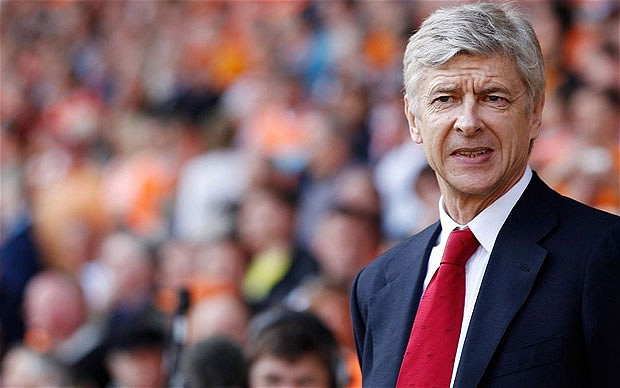 Arsene Wenger has urged referees to give them a proper chance when they face Bayern Munich in the second leg of the round of 16 tie at the Allianz Arena on Tuesday.
The Gunners who were playing well against Bayern at the Emirates, capitulated after Wojciech Szczesny received a red card for his foul on Arjen Robben inside the penalty box.
Arsenal had bossed the game till that point, with Mesut Ozil missing a penalty to give the Gunners the lead in the opening 10 minutes.
However, playing with 10 men is a completely different proposition against a Bayern side who are regarded to be among the best in Europe.
The Germans bossed the possession and scored a late goal through Thomas Muller to put the leg to bed.
The Frenchman is visibly upset with the red cards that his team have had to contend with in recent years, not least in the Champions League final against Barcelona. Jens Lehmann was sent off for a tackle outside the box where the referee refused to play the advantage.
The Gunners played on with 10 men and scored the opener, but were thwarted by a brace late in the game.
The second major incident happened at the Nuo Camp against the same team when Robin van Persie was shown a second yellow card for kicking the ball after the whistle had been blown.
Wenger has pleaded with the referees to give them some leeway this time around and a chance to match Bayern with 11 men on the field.
"We played now a few times with 10 men in Europe and under always very special circumstances. In the Champions League final ... now against Bayern and at Barcelona when we were in a position to qualify," Wenger said.
"It's the only time that I've seen that since I watched European football when Van Persie was sent off. So I hope we will get a fair chance to play with 11 against 11 until the end.
"What you want is a good referee and I think the closer they are to the tough leagues, the more chances they have to detect the tricks that can decide a game," Wenger said. "But that's the same for Bayern. Sometimes when you come from a league that is less pacey ...
"I don't know the referee. Honestly, I never look before the game. I never have any preconceived ideas. Sometimes, when the referees have big experience, it helps them to get out of tricky situations. You do not want players to stay on the pitch who deserve to be sent off but you do not want the interest of the game to be killed for reasons that are a bit tricky," he concluded.