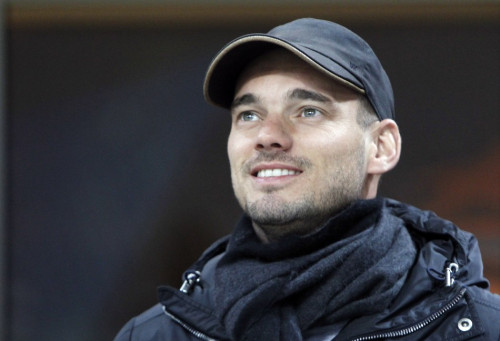 Manchester United have suffered a blow in signing Wesley Sneijder following the playmaker's disclosure that he has no intention to leave Galatasaray as he is happy at Istanbul.
The 29-year-old was linked with a move to Old Trafford as David Moyes was reportedly interested in signing the Dutchman in January. It was believed that Sneijder would be ready to take a £1m pay cut to join the Premier League champions in the mid-season transfer window.
The midfielder joined Galatasaray from Inter Milan earlier this year. Sneijder had said "you never know" when asked about United's interest in his services, but has now expressed his desire to continue in the Turkish capital.
"You would know better than me if I received any offers. Up to now there are no offers. There are rumours about me in every transfer window. I look forward to the end of transfer windows so people stop talking about me," Sneijder explained.
"I'm very happy here with the team and the fans and I have no reason to leave. This type of news always happens. You just need to wait until the end of the window," the former Inter star said.
Sneijder scored the winner against Juventus in the last Champions League group stage fixture and his late strike helped Galatasaray progress to the knock-out stages of the competition.
The Turkish champions face United's league rivals Chelsea in the Round of 16. The Dutch international insists that his side needs to me more focused in order to progress further in the Champions League.
"There'll be two good games. We deserve to be where we are in Europe. This success is very important for the club, the supporters and the team," Sneijder stressed.
"Now we want to go even further. We really have to believe in ourselves to get to the quarter-finals. If we are all focused, we have a real chance," he concluded.
The knockout tie against the Europa League winner will see Chelsea legend Didier Drogba return to Stamford Bridge for the first time since helping the west London club win their first ever Champions League trophy.