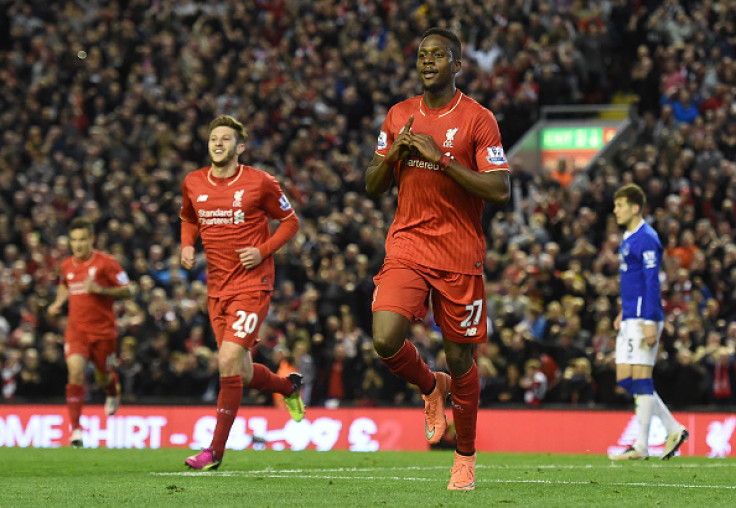 Divock Origi has handed Liverpool a major boost after revealing that he will be ready to play for the Reds in their Europa League final against Sevilla at St Jokob-Park on 18 May after recovering from an ankle injury. The striker was feared to be out for the rest of the season after he was stretchered off during the Merseyside derby following a crunching tackle by Everton defender Ramiro Funes Mori.
The Belgian forward has missed six clashes since his injury, including the two legged semi-final win over Villarreal in the Europa League. He also missed Liverpool's last four Premier League clashes but will hope to return for their final game of the domestic season against West Bromwich Albion in the hope of proving his fitness to the manager ahead of the final in Basel.
Jurgen Klopp had admitted during his pre-match press conference that the striker could return for their visit to the Hawthorns on Sunday (15 May) but refused to guarantee his participation. Apart from Origi, Jordan Henderson and Danny Ings are also in line for a return from injury, with the latter making a comeback after over six months on the sidelines with a knee injury.
"I'm ahead of schedule, so there's still a chance for the final. I just have to do everything and it's the manager who decides what will happen. I'd say my mind says that I can be ready but the body has to follow, so we'll see," Origi said, as quoted by Liverpool's official site.
"In every aspect I try to use my time to the maximum. You have time to think and see your game and so you can use this time in a good way. Now, mentally I'm fresh and everything's okay, so hopefully my body will be right and then we'll see."
'Anfield emotion'
The Belgium international forward, who has been watching from the stands for the last six games, has admitted that he has got caught up in the emotion like the fans do, especially while watching games in the charged atmosphere of Anfield.
"Normally, I'm someone who's calm, but when you're there to support your team you support them to the full and your emotions are with them, especially in Anfield," Origi continued.
"[But] it's special, the team did very well and it shows that we have a lot of quality. I think whomever plays, we have a big chance of winning."