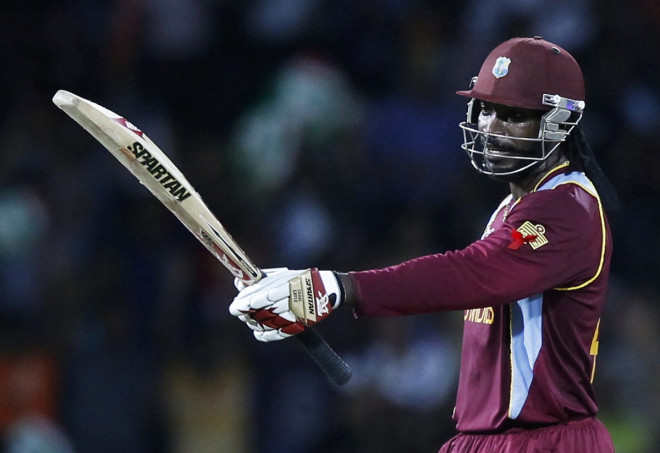 West Indies batsman Chris Gayle is preparing to ruin England's post-Ashes transition in the upcoming three-match T20 series in the Caribbean after coach Ottis Gibson confirmed the flamboyant strokemaker will make a timely injury return ahead of preparation for the limited-overs World Cup this month.
After the culmination of the one-day series on Wednesday, England face the West Indies in three T20 matches starting in Barbados on Sunday and having missed the 50-over games with back stiffness, Gayle is preparing to return.
England claimed just their second competitive victory in all forms of cricket in five months after the three-wicket win in Antigua on Sunday and could continue their resurgence by completing a first series victory since last summer against Australia this week.
But Gibson, a former England bowling coach, has warned any momentum Stuart Broad's team might create will be stifled by the return of the most dominant batsman in world cricket for the start of the West Indies' preparations for their T20 World Cup defence in Bangladesh.
"Chris will be back," Gibson said. "That will make a huge difference to our approach and how other teams approach us. Chris facing this spin might be a little bit different. He will be in Barbados in the next couple of days getting ready for the T20. All the reports suggest he should be ready.
"There's been some pretty average batting over the course of the two games. We got out of jail in the first game with Darren Sammy and Dwayne Bravo putting on 100 in 7 overs at the end, but that's not going to happen every day. We need to play better at the top of the order.
"We played the spin quite well at the World T20 in Sri Lanka two years ago and we know we can play it better than this. We just have to go out and do it.
"We've got Saqlain Mushtaq in our coaching team and our guys face him in the nets. And if you can play Saqlain, you should be able to handle Joe Root a little bit better. James Tredwell is the main spinner and he hasn't had a lot of wickets. He's bowled tight but he's not spun us out. To be losing wickets at the top of the order to Root and Moeen Ali, well, that hurts a little bit.
"On the first day, we never expected Root to open the bowling and bowl tight the way he did. So we had a good meeting and discussed it. But to come back and the same thing to happen again in the second game is disappointing for sure."