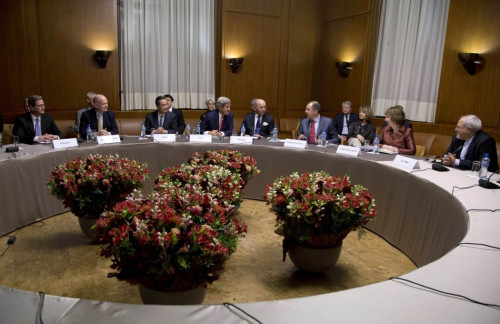 The implementation of the landmark nuclear deal reached in November between Iran and the six world powers has hit roadblock over Tehran's plan to continue research on advanced centrifuges.
Under the terms of the 24 November interim accord agreed by Iran and the leading world powers - Britain, China, Russia, France, Germany and the US – Tehran is allowed to carry on with research and development, but its freedom to install new centrifuges is restrained.
Iran's push in R&D in centrifuges was confirmed earlier by a UN report, which said Tehran was testing models of new and more efficient centrifuges at its Natanz research centre. While Iran said in December it was working on advanced centrifuges, it did not clarify if this was an entirely new model or a modified version of an installed one, according to Reuters.
The interim nuclear deal, which eased decades-long standoff between Iran and the West, stipulated that Tehran would install centrifuges only as replacement for wear and tear.
With political discussions set to resume in Geneva on Thursday, the P5+1 powers are concerned about Iran's move on advanced centrifuges, the machines that purify uranium for nuclear energy generation or even up to nuclear weapon grades.
"This issue (centrifuges) was among the main factors in stopping the previous technical discussions on December 19-21," Reuters quoted an unnamed Western diplomat as saying.
The report said other Western diplomats also confirmed that centrifuges were a "sticking point" in the talks with Iran.
The United States is keen on implementing the interim deal with Iran, which would ensure a restraint on Iran's nuclear programme in return for an easing of some economic sanctions, State Department spokeswoman Jen Psaki said.
Western nations have long suspected that Iran is using its nuclear programme to develop atomic weapons, a claim strongly denied by Tehran, which says the programme is for civilian purposes.
While the West is unhappy over Iran pressing ahead with its centrifuge research, Tehran has said it is only going ahead with crucial research. "We have to make sure our right to research and development is respected," Reuters quoted an unnamed Iranian government official as saying.
However, Iran's Foreign Minister Mohammad Javad Zarif, who is also the chief nuclear negotiator, said he was confident of positive outcome in the Geneva talks.
"The nuclear talks are continuing with seriousness and a strong political will, Zarif said on his Facebook page.