The US dollar moved sideways in narrow ranges on Friday in Asia and remained so early in Europe as markets awaited the key US jobs report due at 12:30 GMT.
The greenback had a sharp fall on Thursday as the market focused on a likely drop in non-farm payroll (NFP) additions and a spike in the jobless rate.
Analysts have forecast a drop in May NFP to 218,000 from 280,000 last month and they expect the unemployment rate at 6.4% from 6.3% in April.
The dollar index, a gauge that measures the currency's strength against currencies of six most important trading partners, fell to 80.32 after trading as high as 81.01. A month ago, the index was near 79.15.
Charts suggest the USD index has first resistance at 80.68 and then at 81.00. Supports are 80.26 and 80.00.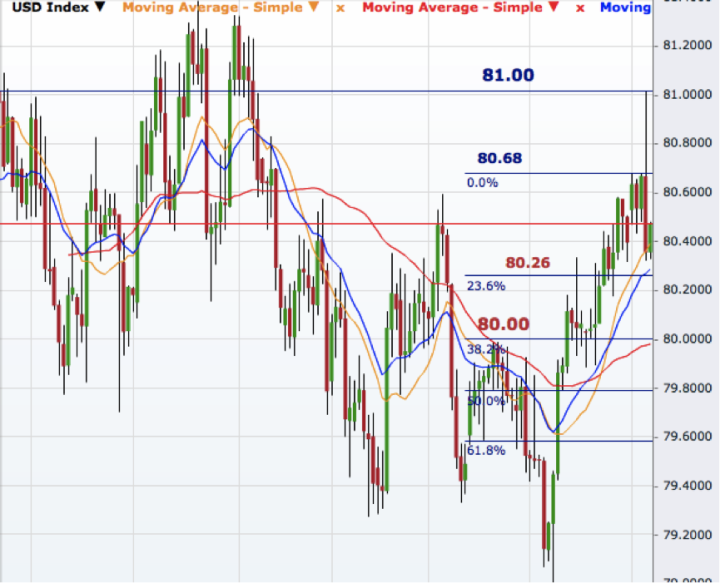 The Federal Reserve is cutting back on bond purchases amid signs the economy is improving. The central bank has kept the benchmark interest rate at a record 0-0.25% since December 2008.
GBP/USD traded in a band of 1.6806-1.6822 early Friday in London. It had rallied to 1.6820 from 1.6736 in the previous day as the Bank of England (BoE) left the key rates unchanged as expected.
It has now resistance at 1.6875 ahead of 1.7000 and supports at 1.6693 and 1.6604.
EUR/USD made a 70-pips gain to 1.3671 on Thursday after falling to a fresh four-month low earlier in the day but dropped to 1.3644 on Friday after German industrial production growth for April surprised on the lower side.
The pair has resistances at 1.3703, 1.3745 and then at 1.3830; supports are 1.3585 and 1.3525.
The European Central Bank (ECB) cut its deposit rate to -0.1% and main lending rate to 0.15% at the policy review on Thursday - the move did not lead to much reaction in the currency market as it was well priced in.
USD/CHF held a tight range despite positive surprises in consumer price inflation and a few other numbers. The pair had fallen from a 4-month high of 0.9000 to a 2-week low of 0.8900 on Thursday and traded a range of 0.8910-0.8923 on Friday morning.
USD/CHF has resistances at 0.8930 and 0.8996 and supports at 0.8890 and 0.8860, as suggested by the Fibonacci retracing of the 6 May to 3 June rally.
USD/JPY remained southbound for the second straight day on Friday, moving further away from the two-month high of 102.81 hit on Wednesday to as low as 102.25.
USD/JPY has been holding a 3 yen range since late January below 104 and only a clear break below 100.80 will set the direction southward. Otherwise the pair can rally towards 105.43, the five-year high it touched in December last year.