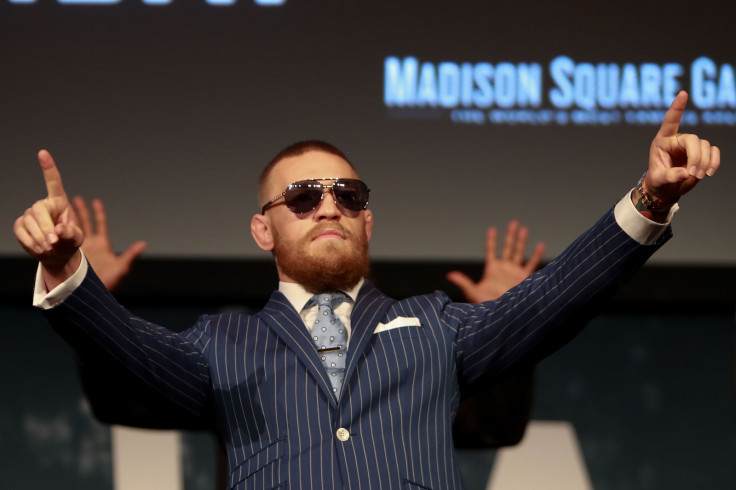 Conor McGregor will aim to make UFC history in four days. Already featherweight champion, courtesy of his 13-second knockout victory over Jose Aldo last December, the Dubliner will aim to become the first man in the promotion's history to hold two belts at the same time when he challenges for Eddie Alvarez's lightweight title at UFC 205 on Saturday (12 November).
It's the headliner to a card that is widely regarded as the most stacked UFC has ever put on; a more than adequate offering for their first event in New York inside the hallowed halls of Madison Square Garden. To top it all off, McGregor has also promised to end the night with a "huge announcement" after beating Alvarez.
The hype over what he might say has already matched that generated over the fight itself. He recently teased his worldwide audience over what might come out Saturday night, telling MMA Junkie: "Buy the pay-per-view and stay tuned. Don't blink. It's going to be big."
So what is the big secret? IBTimes UK looks back over the biggest rumours and reports to have done the rounds.
An extended break from UFC?
McGregor will fight for the third time this year and coming off that exhausting schedule, some reports have suggested that the Irishman will announce his decision to take a break from UFC – should he beat Alvarez. The Irish Sun reported in late October The Notorious had already decided to walk away, albeit temporarily, to "settle down" with long-term girlfriend Dee Devlin.
McGregor swept those claims away however and insisted they were false in a conference call, going onto suggest that a break is the last thing on his mind. "I don't know whether you can take time off from this life. I'll stay working, stay creating history, stay changing the game. That is what I have been doing since day one." An Instagram post four days ago reiterated that in typically bombastic fashion.
Vacating a title?
McGregor will enter the octagon on Saturday for the third time since winning his featherweight title – but is still to defend the strap. It's hardly an ideal scenario. The 28-year-old and Dana White have clashed heads throughout 2016 and another major confrontation could be brewing over the prospect over how long McGregor can hold both belts – if he can take the lightweight crown from Alvarez, that is.
In White's mind, the idea of a double champion dipping between both featherweight and lightweight divisions is unworkable. He told Fox Sports: "If he wins, he'll hold two belts. Then he'll decide which one he wants to give back to me. He can't hold both. He'll have accomplished this. Then he'll have to figure out which one he wants to give up. He can't hold up two divisions."
McGregor seemingly thinks differently. He told last week's conference call: "Vacate? I don't know, we'll see about that. Why not defend them both?" Realistically, you can probably take those comments with a pinch of salt, however. A moment to stand in front of the UFC universe with two belts draped across each shoulder will probably suffice. Vacating one of them – presumably the featherweight title – will follow if he is to make history.
Conor McGregor vs Nate Diaz III?
What about a third instalment of a rivalry that drew in more causal viewers for UFC than any other? Ever since Diaz positively rocked the world in beating The Notorious via submission in March, a very new rivalry suddenly became the hottest and most fascinating in town. It rumbled on for six more months amid a slew of sublime trash talk and wild confrontations before their rematch in August. McGregor's victory via a unanimous decision levelled the playing field after their brutal, bloody war at UFC 202.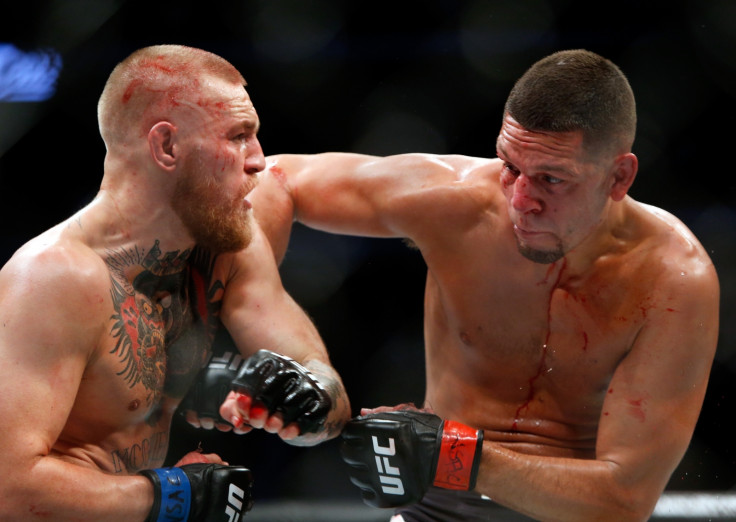 McGregor's renewed ambition to become the UFC's first double champion – something he was originally aiming to do against Rafael dos Anjos in March – shelved plans for a rematch. There is no denying there is the market for a third fight, however. The duo hyped up their initial fight with just 11 days notice back in March and tore the house down when they met again. McGregor is the industry's biggest star and Diaz picked up countless new fans during the perpetually-engrossing rivalry.
In an interview with the Elite Edge by Pundit Arena, McGregor's coach John Kavanagh was inevitably quizzed on the announcement and mentioned the Diaz fight as something that remains in Conor's thoughts. Dana White, has not been too keen on it, however. He told ESPN shortly after the second fight: "It was such an exciting fight. They wanted to do it again so we did it again. But they're not in the same weight class, the fight doesn't make sense, it's not for any titles, it's not for any ranking positions. It makes no sense."
Going forward, would a third fight with Diaz represent a step forward for McGregor? Probably not.
Conor McGregor vs Floyd Mayweather
Let's be honest, it's likely to be the biggest fight that will never happen. But as White has said himself, you can never say never. When McGregor was bumped from the UFC 200 card and his future with the promotion briefly looked bleak, the prospect of a showdown with one of boxing's modern greats, the undefeated Mayweather, picked up pace. Following reports of an initial deal being struck, McGregor merrily went to work adding fuel to the fire by posting a picture of a mock stare down between the two.
Mayweather, a winner of 12 world titles across five weight divisions before his retirement in September 2015, admitted it "was possible." McGregor's response? "Come at me."
His reconciliation with UFC and the huge Diaz spectacle put it all on ice and in September, Mayweather claimed in an interview with Fight Hype talks had taken place. But he said they amounted to nothing, adding he would now "move on." Since beating Diaz, McGregor has remained open when asked about a boxing match with one of the sport's greats, but only if Mayweather and television network Showtime could put forward the "appropriate funds" – $100m to be exact.
But is all hope dead? Any fight would of course call for McGregor to commit to a straight-up boxing match rather than vice versa. According to his coach Kavanagh, the Irishman could potentially bring boxing trainer Paschal Collins – who trains Gary O'Sullivan and Stephen Ormond – in to sharpen his skills for future MMA fights or elsewhere.
One thing is for sure, an announcement relating to Mayweather vs McGregor would certainly merit the hype.
McGregor Inc
McGregor has been central to MMA's inexorable rise over the last two years. He long ago transcended the status of mere UFC fighter and is now one of sport's most recognised and marketable faces. Is he about to take on another platform?
McGregor Inc. is something he recently mentioned via Mac Life, the digital channel that has been documenting his preparations for the Alvarez fight. Could he feel he is now ready to step out on his own with something akin to Mayweather Promotions? The 39-year-old made the decision to do that 10 years ago when he paid $750,000 to cut ties with Top Rank and head up his own firm. Over the next decade, he would become the highest paid athlete on the planet. MMA commentators have suggested McGregor has designs of doing something similar.