Dolby Atmos is the next generation of surround sound for the cinema and home. Where stereo uses two speakers to produce two channels of sound, and surrounding sound systems increase this to five or seven channels, Dolby Atmos removes the concept of channels entirely, allowing sound to envelope the viewer in a sphere of audio.
Within this sphere, individual sounds can be moved around, made louder or softer, and be made to appear from anywhere in the room or cinema theatre. And while Atmos has featured in a growing number of cinemas in recent years, it is only just venturing into the home, first via Blu-ray films and soon through TV services from Sky and BT.
How can I get Dolby Atmos at home, and how much will it cost?
Atmos-ready surround sound systems and audio/video receivers have been on the market for over a year, but 2017 looks to be when the technology finally reaches critical mass. You still need to spend several hundred pounds to get Atmos, but its best to see the initial outlay as an investment in the future.
One of Atmos' party tricks is to place sounds overhead. To do this you can either install new speakers into the ceiling, or a more convenient solution is to buy speakers which sit on regular stands, but fire upwards to bounce sound off the ceiling and back down towards your ears. These up-firing speakers are often integrated into the front and rear surround sound speakers, where one speaker faces forwards and one faces upwards.
From here there are two options. You can buy an Atmos-ready receiver to plug your own speakers into, or pick up an Atmos sound bar.
The most flexible option is to buy a receiver, into which you plug your games consoles, satellite or cable TV box and any other devices, as well as a set of speakers bought separately. An Atmos-ready receiver will have enough inputs for a regular 5.1 surround sound setup (five satellite speakers and one subwoofer), plus extra sockets for ceiling-mounted or upward-firing Atmos speakers and often a second subwoofer. The receiver then plugs into your TV with a single HDMI cable.
Examples of Atmos-ready receivers include, but are in no way limited to:
Onkyo TXSR444 - £269
Pioneer VSX1132 - £349
Denon AVR-X2300W - £399
Onkyo HTS5805 (with speakers) - £599
Yamaha RX-A1060 - £1,099
Upwards-firing Atmos speakers start at around £130 for a pair which sit above your front left and right speakers, and rise to over £500 per pair. Alternatively, 7.1 speaker packages with a pair of up-firers included start at around £400, and this price can extend almost infinitely.
Although speaker placement is more important with upwards-firing units than with regular surround sound (due to the size and shape of your room), most receivers come with a microphone to help with the calibration of each speaker. The receiver will instruct you to place the microphone in various places around the room, then play a test sound in each position.
What about a Dolby Atmos soundbar?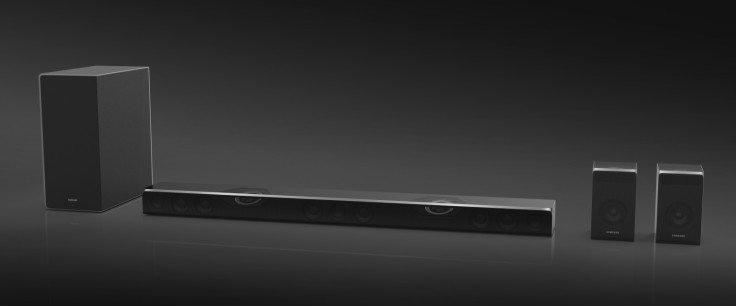 If this sounds like too much effort and complexity, an Atmos soundbar could be the answer you're looking for.
The Samsung HWK950 is a good place to start. Here is a soundbar with its own wireless subwoofer and a pair of wireless rear speakers. Each device requires plugging into the mains, but the lack of speaker cable will be a welcome bonus for many.
The bar itself contains central, left, right and upwards-firing Atmos speakers, while the rear boxes each have a speaker facing outwards and one pointing upwards, giving you a total of 15 speakers and a subwoofer. Setup here is much simpler than with a receiver, but with just a couple of HDMI ports compared to the half-dozen in some receivers, simplicity also means a lack of flexibility for larger home cinema setups.
Here is what you can expect to pay for an Atmos soundbar:
Onkyo LS7200 - £899
Philips Fidelio SkyQuake - £899
Samsung HWK950 - £1,299
Yamaha YSP5600 - £1,699
Both Sony and LG showed off some Atmos-ready soundbars of their own at the CES technology show in January. Prices have yet to be announced but they will be on sale later in 2017.
Do games consoles have Dolby Atmos?
Yes and no. Microsoft said in December 2016 the Xbox One and One S will receive Atmos support for games and films via a software update sometime in 2017, but this has yet to arrive.
As for the PlayStation 4, Atmos is there but you need to jump through a few hoops to find it. First, head into the console's settings screen and set the audio output to 'bitstream (Dolby)'. Then, in the settings menu of the Blu-ray disc select Atmos as the sound source. Once the movie has started press the controller's option button and select 'bitstream' for the HDMI out feed.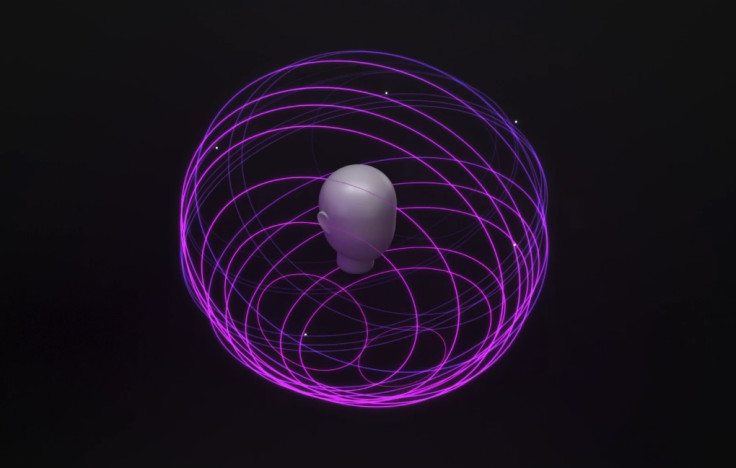 Most receivers state the kind of audio they are playing, so should state 'Dolby Atmos' on their display at this point; the Samsung bar mentioned above has a blue light to indicate when it's running Atmos.
Which films and TV shows have Dolby Atmos?
Much like Ultra HD (4K), Dolby Atmos content is fairly thin on the ground for now. According to Dolby itself, there are fewer than 70 titles (across both film and TV) which have Atmos soundtracks.
Here is a quick selection:
American Sniper
Chappie
Enchanted Kingdom
Everest
Game of Thrones: Season 1-5
Gravity
Hancock
John Wick
Mad Max: Fury Road
Man of Steel
Minions
Pineapple Express
San Andreas
Terminator Genisys
The Amazing Spider-Man
The Man from U.N.C.L.E
Unbroken
Do television and streaming services support Dolby Atmos?
BT will add Dolby Atmos to its Ultra HD sports channels on 31 January. Every live Premier League game broadcast by BT Sports during the 2017/18 season will be available in UHD and with Atmos for customers who subscribe to the company's Ultra HD package.
After this, BT hopes to begin offering Atmos content produced by US TV network AMC.
Not to be outdone, Sky plans to add Atmos sound to its Ultra HD content later in 2017, and Virgin's new Tivo V6 box is Atmos-ready for when the content becomes available.
Streaming services like Netflix and Amazon Prime have not yet embraced Dolby Atmos for a variety of reasons; not many films include it, few customers have the necessary equipment, and streaming Atmos requires more bandwidth which for most customers is better used to improve the stream's picture quality. This will likely change in the next year or so.
Dolby Atmos: The bottom line
For now, Dolby Atmos is a lot like Ultra HD was a couple of years ago. Early investors can buy the hardware and future proof themselves, but for now there is very little Atmos content to listen to. That will certainly change, especially once broadcasters like BT and Sky jump on the Atmos bandwagon, and for now your options are limited. As a result, Atmos is a technology to be aware of, but not necessarily one to invest in – yet.