Being sent an Ultra HD Blu-ray player to review should feel like a natural step forwards along the path of ever-improving technology.
Just as we switched from VHS to DVD, then from DVD to Blu-ray (or HD-DVD if you plumped for the losing side of the format war), setting up the Samsung UBD-K8500 player felt like the right thing to be doing – especially as UHD TV prices are falling and the catalogue of UHD (or 4K) content grows.
Picture quality is, as you might well expect, stupendously good – especially on a big screen – and the included UHD copy of Martian looks sublime. The £270 K8500 also does an admirable job of up-scaling regular Blu-rays to make them look better than 'regular' High Definition.
But where the transition from VHS to DVD to Blu-ray was a simple case of buying a new media player for each technology milestone, the step to Ultra HD isn't defined as clearly.
While screen technology has gradually improved since we first made the jump to HD, internet download speeds and the popularity of streaming services taking advantage of them have already landed the first Ultra HD punch. A whole year ago we reported on using the Netflix UHD service, yet only recently has the Blu-ray market heaved itself into the race with players from Panasonic and Samsung.
The task of buying a new player and switching our film buying habits from Blu-ray to UHD Blu-ray might sound familiar, but things aren't so simple this time around.
The problem is, with UHD Blu-ray players like the Samsung UBD-K8500 seen here costing up to £300, and films costing around £25, the 4K bandwagon is an expensive one to jump on – especially when Sky Q and BT are already offering on-demand UHD content of their own, along with Netflix and Amazon.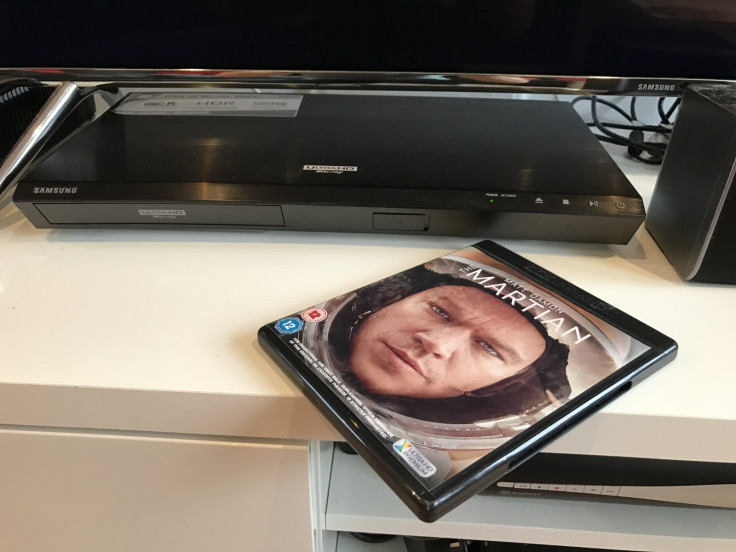 Anyone with a slow internet connection may see sense in buying UHD discs over venting their frustration at the Netflix buffering screen, but while there are fringe cases where internet connections remain poor no matter how much money you burn, it isn't difficult to suggest anyone wealthy enough to buy a 4K TV can also afford decent internet.
Of course, UHD Blu-ray picture quality is exceptionally good. Watching UHD Blu-ray films is a truly wonderful experience and a treat to your eyes and ears. In our case, it also means we weren't hogging the internet connection by streaming 4K and there was never any concern of the picture stuttering or dropping to a lower resolution.
A certain reassurance
There's a certain reassurance in knowing all the ones and zeroes carrying the film to the screen and into our eyes are right there, all saved up on the disc and ready to go. It is a feeling shared by those who insist in keeping all of their music on an old iPod instead of streaming it on demand.
Even with a supersonic internet connection, streaming 4K still includes an inherent doubt that the download speed will falter and picture quality slips to merely regular HD. Those living in larger houses, or in older buildings with thick, Wi-Fi-blocking walls, are also more likely to plump for 4K from a disc than a stream from a router in the next room.
Perhaps years of disappointing London internet speeds have skewered our expectations, but watching 4K from a disc felt like the most stress-free option, and the Blu-ray up-scaling is a nice bonus.
Having said all that, this is a problem which will likely go away in the not-too-distant future. Internet speeds and Wi-Fi strength will continue to improve and soon streaming 4K will be as reliable as email and online banking are today. This puts UHD Blu-ray in the precarious position of launching into a market which is likely to disappear before the next evolution.
Added to this, the appeal of owning media physically and outright is now less of a priority among younger consumers already used to subscribing to Spotify and Netflix, instead of owning individual albums and films. UHD Blu-rays look sensational, but open a box and feeding a disc into a sliding tray is starting to feel archaic.