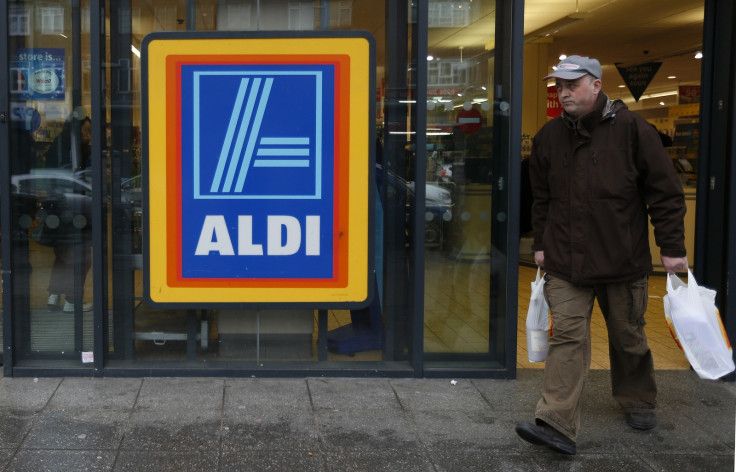 Discount grocer Aldi overtook the Co-op to become Britain's fifth biggest supermarket, 27 years after opening its first UK store in Birmingham.
The fast-growing German supermarket chain saw its sales jump 12.4% year-on-year in the 12 weeks to 29 January, according to respected market research body Kantar Worldpanel. This took Aldi's UK market share to 6.2%, ahead of the Co-op's 6.
But even more impressive is that much of the growth of Aldi, and its German rival discounter Lidl, has come in recent years, as shoppers looked for cheaper weekly shops, following the 2008 financial crisis.
How has the chain grown so quickly?
The business offers decent quality products at low prices, so has always appealed to shoppers on a budget. After the financial crisis it tapped into middle class demand by offering high end products at competitive prices.
During Christmas trading over December the chain sold over two million bottles of Prosecco, a rate of almost 69,000 bottles per day. It also sold 30-day-aged roasting beef joint for £5.99.
These kind of sales has financed huge growth. It plans to open 70 stores this year including its 700th outlet this month. Its overall plan is to hit 1,000 UK shops by 2022.
How does Aldi do it?
Aldi's UK business is part of a huge group consisting of more than 10,000 stores across 17 European countries and the US. The privately-held firm, founded in 1946 by two brothers Karl and Theo Albrecht in Essen, Germany, racks up sales of over €60bn a year.
This scale gives it the power to negotiate tough terms with suppliers. Its size means it has greater bargaining power than most UK retailers, with the exception of Tesco and Asda, owned by US giant Walmart.
Aldi offers a limited range of products. Discounters carry between 1,000 and 3,000 lines, compared with more than 50,000 at a large UK supermarket. This means a discounter might stock one type of tomato ketchup, rather than a range. But because discounters order so many of one item from one supplier it gives them further leverage over price.
The majority of discounters' products are own-label, rather than brands, which again gives them more clout with suppliers who make products on the chain's behalf.
Mike Watkins, UK head of retailer and business insight at research group Nielsen, told IBTimesUK: "There are three primary reasons for Aldi's growth: they opened lots of new stores ad undertook huge advertising campaigns to raise awareness among the shopping public.
"In turn, the success of these gave them the confidence to add more product lines to the initially limited ranges, which meant shoppers bought extra items, increasing basket size. Combined, this has resulted in more people spending more money more often, thus, they've captured more of the regular weekly shop."
Have rival supermarkets fought back?
The Big Four supermarkets – Tesco, Sainsbury's, Morrisons and Asda ­– have fought back by cutting prices in recent years so discounters are having less of an easy ride these days. Aldi's growth, whilst still impressive, is slowing.
But the more Aldi tries to offer its customers, in terms of range and in store experience, the greater the danger that it strays from its low cost, efficient business model that has proved so effective.
High street prices are set to rise this year, as the pound has fallen by some 16% against the dollar, making imports more expensive. The Bank of England forecast last week that inflation will hit 2.7% later this year. Even as grocery bills rise discounters will have to make sure their prices are pegged appreciably below established rivals.