Remember Black Friday from 2014? Of course you do. We all watched those customers fight over cheap televisions, the police getting called to protect staff from crazed bargain hunters and of course those low prices stuck on products from companies you'd never heard of.
Anyway, it is almost November so that means Black Friday is about to return as an excuse for perfectly calm and reasonable shoppers to go wild in the aisles. Some retailers have already begun promoting it on their websites almost a month early but what exactly is Black Friday, how did it get its name and when is it taking place in 2015?
When is Black Friday 2015?
This is the easy one. Black Friday takes place on the day after the US celebration of Thanksgiving, which falls on the third Thursday of November every year. For 2015, Black Friday is 27 November and, as has become common in recent years, its Cyber Monday sibling will take place on the following Monday, 30 November. Cyber Monday is essentially more of the same – discounts off stuff you never really wanted in the first place – but with the emphasis on websites rather than on the high street.
Although Black Friday started in physical stores, websites are just as keen to take part, so most web-only sales kick off at 12.01am, primed and ready for you to buy a load of massive, cheap TVs when you get back from the pub after those Thursday night work drinks. Such is the popularity of Black Friday, we expect some retailers, such as Amazon, to start dropping prices on 23 November.
There are a couple of theories for where the Black Friday name came from. It may sound like a really bad day for the stock markets but one claim is that it refers to the increased pollution caused by the people of Philadelphia on the day after Thanksgiving, most returning to home and work after a break with their family. The phrase was used as early as the late 1950s and spread nationally through the mid-1970s.
A second theory refers to how retailers who traditionally operated at a loss (and were in the red) from January to November reached profit at the end of November, hence going back into the black. But now this is mostly forgotten and Black Friday is an excuse for retailers to slash the prices of stock that has not been selling too well – and for customers to queue up for midnight openings to get their hands on whatever they can.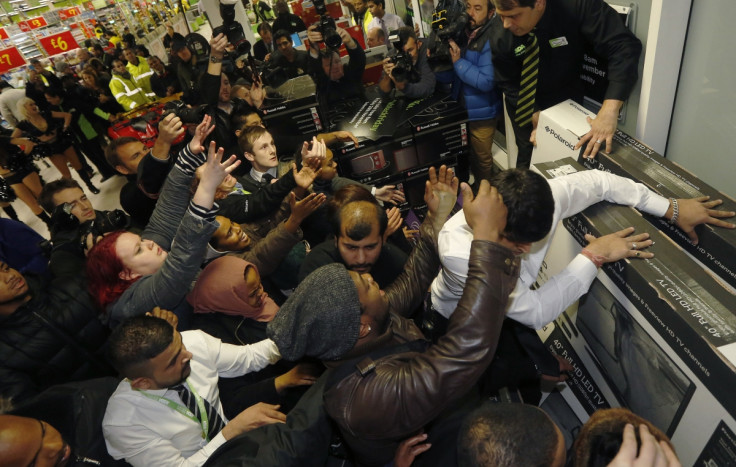 It is estimated that Black Friday 2014 saw sales in the UK of £810m ($1.25bn), more than double the previous year, as websites crashed and shoppers queued up to run into stores the moment they opened. Will 2015 pass the £1bn milestone? It is more than likely, especially as we expect retailers to get behind the big day more than ever before.
IBTimes UK will be working hard to bring you the latest on any Black Friday and Cyber Monday deals that catch our eye between now and the end of November. We will publish the best, along with opening times and more, so stay tuned.