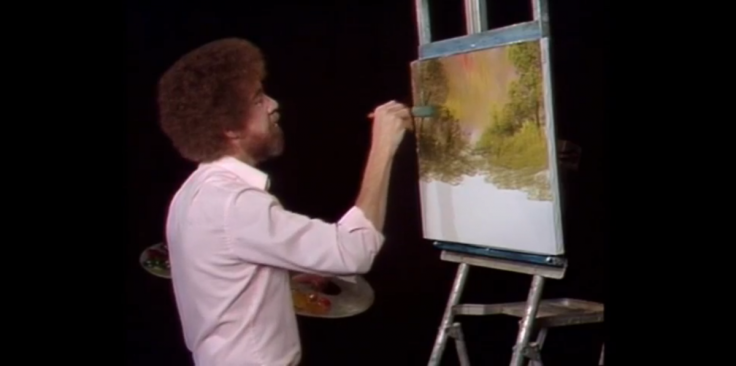 Hundreds of thousands of people are watching a marathon of classic TV art show The Joy Of Painting via a Twitch live stream. The show, starring artist Bob Ross, ran from 1983 to 1994 and consists of him painting beautiful landscapes from scratch.
The Twitch stream has been set up officially, with the support of Janson Media and BobRoss Inc, to celebrate the launch of the streaming service's creation section. It began on Thursday 29 October and will run for over a week as each of the 403 episodes airs in succession.
"Celebrate the birthday of the legend himself; put on your creativity 'fro and create some happy trees alongside Bob Ross for 9 days of oil painting," reads the page's description. "If you create along with Bob Ross, tweet out your creation to @twitchcreates!"
The show is beloved for Ross's beautiful works and calm, almost dreamlike presentation style –talking about happy little trees and clouds. The reason so many are watching and enjoying the stream (at the time of writing 43,000 are currently watching – with nearly 460,000 total viewers) is because the show has enjoyed renewed life thanks to its meme status on the internet. As far back as 2002, memes have appeared starring Ross and a blank canvas.
Aside from the show, the chat channel is proving hugely entertaining, with users buying into everything Ross says and does. If he slaps some dark paint down, they will jokingly claim the painting is "RUINED", but they know the results will be amazing. At the end of each painting, the channel is awash with comments saying "GG" (good game) a common term in the gaming community – which makes up most of Twitch's audience. There is even a specially made Bob Ross emoticon, and they all get very excited about fences.
Many are sadly learning for the first time that Ross passed away in 1995 at the age of 52. However, his legend lives on.
A blog post explaining Twitch Creative said: "All along, the Twitch community has included a determined community of artists, crafters and builders, who have been using Twitch to broadcast their creative processes. These creative broadcasters share many of the same characteristics as all Twitch broadcasters: passion, engagement, and a community-centric worldview."
The Bob Ross marathon will come to a close on Friday 6 November.