With Apple suffering from short supplies of its flagship iPhone 5s, we look at hwen and where the new phone will be available.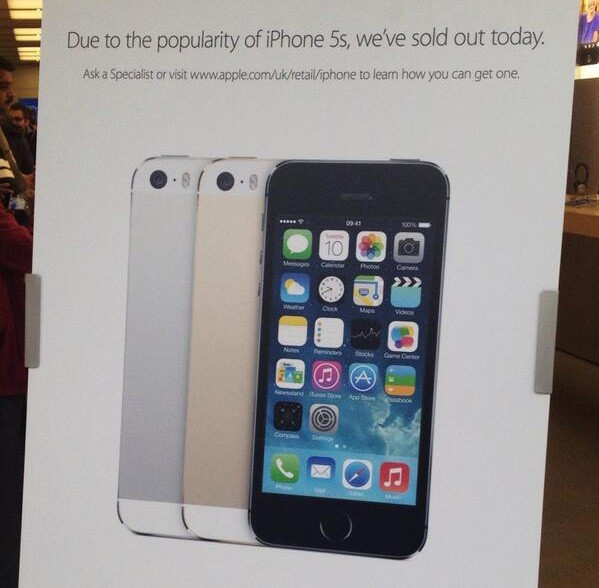 Apple launched the iPhone 5s and iPhone 5c to much fanfare last week. This morning around the world both new phones went on sale, but unless you are reading this on an iPhone 5s already, you are going to find it difficult to get one in the next couple of weeks.
The iPhone 5s was not available for pre-order like the iPhone 5c, which led to a lot of speculation that Apple was having issues with its supply chain and this speculation has been backed up with reports of widespread stock shortage in Apple's own stores here in the UK and at networks offering the device on contract to their customers.
The problems could stem from the new technology in the iPhone 5s, specifically the fingerprint reader integrated into the home button. Other speculation has suggested that the problem is down to the new A7 processor.
There is no such problems with the iPhone 5c it seems. Despite being available in five different colours, there is no shortage of the colourful, ever-so-slightly-cheaper iPhone, which is down to the fact it has essentially the same hardware as last year's iPhone 5.
So, if you really what an iPhone 5s, what are your options?
iPhone 5s: Direct from Apple stores
The most direct way of getting an iPhone 5s would clearly be to walk into an Apple store and hand over your £500+ and get an unlocked and SIM-free iPhone 5s.
For the people queuing up this morning, that was obviously their intention, but within an hour of doors opening across the country at 8am, there were reports that stocks had already been depleted and within two hours reports on Twitter claimed all models and colours were unavailable.
Apple has yet to confirm or deny this, or when stocks will be resupplied in stores in the UK.
It is hard to tell if demand for the phone is higher than previous years or if supply is "very constrained" but we should know in the next couple of days.
iPhone 5s:Direct from Apple online store
While this will save you the hassle of getting off the couch to order an new iPhone 5s, it won't mean you'll get it any quicker.
Indeed in the UK, all iPhone 5s models have had their dispatch date pushed back to October, with Apple being very unclear if that is the start, middle or end of the month.
Within minutes of the new iPhones going on sale online at one minute past midnight on 20 September, the delivery date of the gold version of the iPhone 5s slipped to October with the silver and space grey models slipping to 7-10 days.
However it seems as if those initially looking for a gold model may have decided they couldn't wait and all models have now slipped to October delivery dates
This delayed delivery has been replicated in Apple's online stores around the world.
iPhone 5s on O2, EE, Vodafone, Three, Orange or T-Mobile
So getting an iPhone 5s SIM-free on the day (or indeed the month) of launch could be a struggle, so maybe it's time to think about getting one on contract.
At the time of writing there are reports that there are still some iPhone 5s models available in netowrk's own store around the UK, but we expect these to be snapped up very quickly. There is simply no gold models available on any network with EE seeming to have the biggest supply of silver and space grey models.
Some O2 stores are reporting a three to six week wait on orders, while it is a similar story with Vodafone and Orange.
Carphone Warehouse is similarly sold out with orders not expected to arrive until 4 October, while Phones4u had limited stock left this morning, but that is likely to sell out very quickly.
All networks are reporting lots of iPhone 5c supplies however if you fancy going for a more colourful option.
iPhone 5s on eBay
Sadly this may be your only option for getting an iPhone 5s in the next couple of days.
At the moment there are dozens of iPhone 5s models available on the auction site, including the much-coveted gold model.
A 16GB iPhone 5s which will cost you £549 when bought direct from Apple is currently being sold for up to £999 on eBay on a 'Buy it Now' basis.
In terms of actual bids for a 16GB gold iPhone 5s, the highest made so far is £566.13 - a modest £17 premium on the cost price - however with eight hours of the auction left, this is likely to increase.
A 32GB iPhone 5s available "in any colour" has currently attracted a bid of £755 however, £126 above the Apple asking price of £629.