Former NSA agent and whistleblower Edward Snowden has weighed in on the controversy surrounding the Democratic National Committee (DNC) email leaks. He said if Russia was behind DNC hack then the NSA would trace it, as the security agency had the necessary know-how. His comments come amid the uncertainty about the link between the DNC hack and the following email leaks by WikiLeaks. Top security experts maintained that Russian hacker groups had a hand in the leaks, even as Kremlin officials categorically denied any involvement.
Snowden, who is currently a resident in Russia, wrote on Twitter, "If Russia hacked the #DNC, they should be condemned for it." In a series of Tweets, Snowden, calling for greater transparency of government intelligence capabilities, also indicated that the NSA had the necessary technology to determine the origin and identity of the attackers. Citing a 2015 Washington Post report, he pointed out that the FBI had already used defensive intelligence methods when it "presented evidence" in attributing the Sony hack to North Korea based hacker groups.
Snowden also said that the NSA could use its now public data analysis program XKeyscore to prove Russian involvement, adding that he "did this personally". He also said that while the Director of National Intelligence opposeed publicly sharing such evidence, in cases like this, he cautioned, if the US government chose not to flex its muscle at rivals, more such cyberattacks would become commonplace.
In a rare show of support, Snowden also said that despite his personal objections, this was "the only case" where "mass surveillance has actually proven effective". He argued that in the face of such intrusive cyber attacks, the intelligence community needs to re-examine its priorities and adopt a more modern approach toward intelligence disclosures.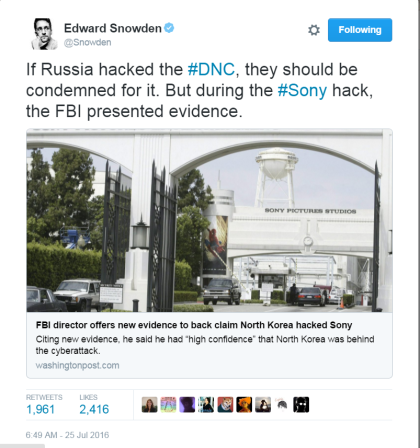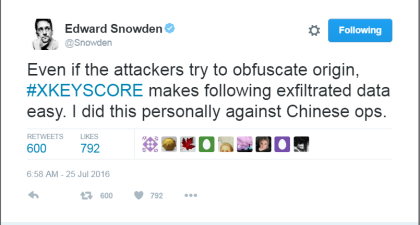 Russia has also been accused of having a hand in providing the data that made the WikiLeaks DNC email dump possible. However, founder Julian Assange maintains that the source is known to no-one and any attributions made is "simply speculation".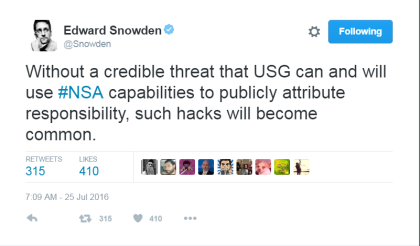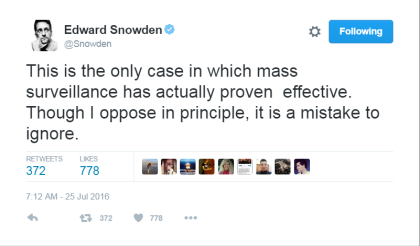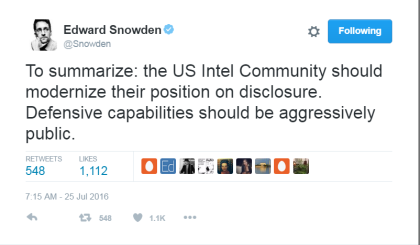 As the controversial nature of the DNC hack unfolds, the FBI has launched an investigation into the breach. A spokesperson said, "A compromise of this nature is something we take very seriously, and the FBI will continue to investigate and hold accountable those who pose a threat in cyberspace."