Edward Snowden designs spy-proof smartphone case to warn if you're being monitored
Snowden reveals plans to develop a modified iPhone 6 case-like device to counter surveillance.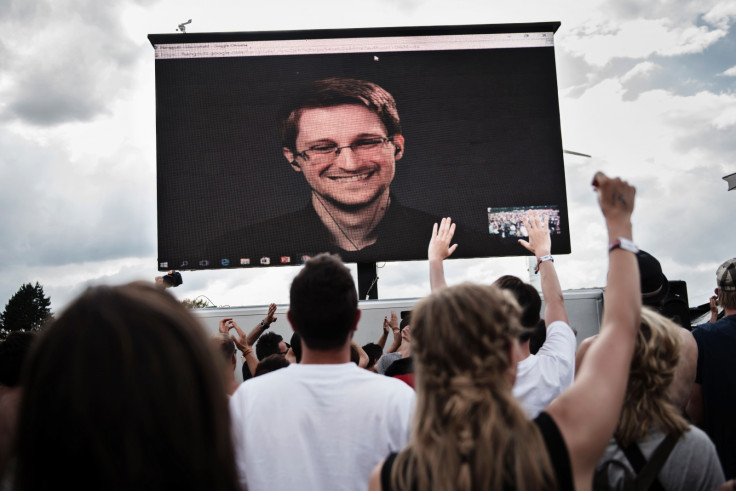 Three years after leaking thousands of classified documents revealing the US government's extensive global surveillance programme, former National Security Agency contractor Edward Snowden is still looking to tackle phone surveillance. At a one-day conference on "Forbidden Research" at MIT's Media Lab on Thursday (21 July), Snowden detailed plans to develop a modified iPhone 6 case-like device designed to warn users if their smartphone is transmitting information that could potentially be monitored.
"If you have a phone in your pocket that's turned on, a long-lived record of your movements has been created," Snowden said via a video connection from Russia, the Guardian reports. "As a result of the way the cell network functions your device is constantly shouting into the air by means of radio signals a unique identity that validates you to the phone company. And this unique identity is not only saved by that phone company, but it can also be observed as it travels over the air by independent, even more dangerous third parties."
Designed together with American hardware hacker Andrew Huang, Snowden presented the design for the small anti-surveillance device, dubbed the "introspection engine", that he claims could prove useful for journalists reporting in hostile regions
"Unfortunately, journalists can be betrayed by their own tools," the duo wrote in a research paper detailing their plans for the device. "Their smartphones are also the perfect tracking devices."
They added that the device is a much safer way of keeping track of and switching off your phone's radios as compared to turning on the "airplane mode".
"Malware packages, peddled by hackers at a price accessible by private individuals, can activate radios without any indication from the user interface," they wrote. "Trusting a phone that has been hacked to go into airplane mode is like trusting a drunk person to judge if they are sober enough to drive."
The device includes a small, built-in monochromatic screen that can monitor when an iPhone is transmitting, cover the rear-camera and even juice up the iPhone with extra battery power. Connecting to a phone's internal antennas for cellular connection, GPS, Bluetooth, and Wi-Fi through the SIM card slot, the device can monitor and trigger an alert if a phone is errantly transmitting data via radio signals that can potentially put a user at risk of detection. They say it can also immediately shut the phone off altogether.
While they are currently designing the device to work with Apple's iPhone, they say it could be modified to work with other smartphones as well.
Although the device is still just in the academic phase at the moment and will not be released as a product to the masses anytime soon, Snowden and Huang said they are looking to prototype and verify the device's capabilities over the coming year before eventually offering it to journalists.
"As the project is run largely through volunteer efforts on a shoestring budget, it will proceed at a pace reflecting the practical limitations of donated time," they wrote.
If they do meet their funding goals, the device could be released together with the Freedom of the Press Foundation, a non-profit advocacy group of which Snowden is a board member.
"One good journalist in the right place at the right time can change history. One good journalist can move the needle in the context of an election," Snowden said. "One well-placed journalist can influence the outcome of a war."
"This makes them a target, and increasingly the tools of their trade [are] being used against them. Our technology is beginning to betray us not just as individuals but as classes of workers, particularly those who are putting a lot on the line in the public interest."
© Copyright IBTimes 2023. All rights reserved.