Jamiroquai are back with brand new music and fans are delighted. The band, fronted by Jay Kay, debuted the music video for their new single Automaton on 26 January and announced a brand new tour. As music prepares for the return of one of its most brilliantly psychedelic collectives, IBTimes UK rounds up all you need to know about Jamiroquai's comeback.
Automation album and single
Directed by Charlie Lightening, the visually spectacular Automaton video channels neo-noir science fiction and boasts creative direction from Jay Kay himself. Opening with a nuclear explosion, a robotic version of Jay Kay is then seen taking in various post-apocalyptic landscapes from the subway to the beach and a desert.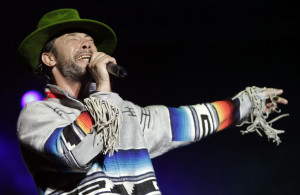 Explaining the meaning behind the treatment, Jay Kay said: "The inspiration for Automaton is in recognition of the rise of artificial intelligence and technology in our world today and how we as humans are beginning to forget the more pleasant, simple and eloquent things in life and in our environment including our relationship with one another as human beings."
Automaton, the single, will appear on the album of the same name. Set for release on 31 March, Automaton comes more than six years after the British group delivered their seventh album Rock Dust Light Star.
Touring schedule
Jamiroquai will be on the road later in 2017 with a headline show scheduled for London's Roundhouse on 31 March. The band, which also includes members Derrick McKenzie, Rob Harris and Paul Turner, will also headline concerts in Paris on 28 March and Tokyo, Japan on 25 May. Jay Kay will also lead his collective to a slew of festivals across the summer, including Boardmasters in the UK and the Seoul Jazz Festival in South Korea.
Jamiroquai: History of Virtual Insanity
Jamiroquai hold a place in the Guinness Book Of Records as the best-selling funk band of all time. Over the course of their career, which began in 1992, the band have amassed three UK number one albums – Emergency On Planet Earth, Synkronized and A Funk Odyssey – sold over 26 million albums worldwide and won a Grammy for best pop performance by a pop duo or group.
Tickets for Jamiroquai's upcoming headline dates are on sale from 3 February at 9am via Ticketmaster.
Watch Jamiroquai's Automation music video: