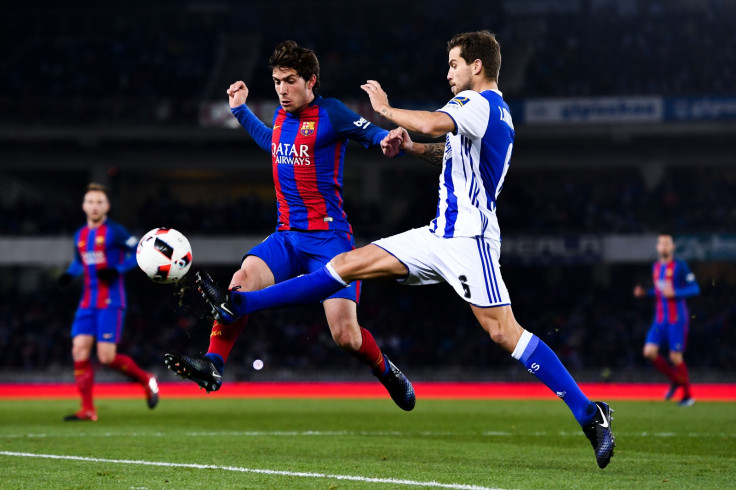 Iñigo Martínez is about to leave Real Sociedad in the coming weeks according to Diario Marca. The Spanish international defender is a target for Europe's biggest clubs due to his €30m release clause and Manchester City, Juventus, Inter Milan and Barcelona are in the race to sign the 26-year -old . It is not the first time the talented defender has been linked to a move to the European giants.
Before signing a new deal with the Basque outfit Sociedad rejected a €20m bid from Liverpool in May 2016, according to Marca and El Diario Vasco -San Sebastian's regional newspaper.
Despite the Anfield club having tracked Martínez since 2011 - before he made his senior debut - Barcelona are closer than anyone to signing the player. Ernesto Valverde, current Barca manager and former coach of Sociedad's arch rivals Athletic Bilbao, is allegedly trying to convince the player to join the Catalans according to El Mundo Deportivo.
His passing skills – that allow him to also play as a holding midfielder - would fit perfectly into Barcelona's tiki taka style. Martínez is the most technically gifted defender in Spain under the age of 26. Since his debut six years ago, he has impressed thanks to his tackling and jumping ability – he is just 5ft 11in – and also with his long range shooting.
During his first season at La Liga, he scored twice from inside his own half. Ex-Liverpool's midfielder Xabi Alonso previously posted on Twitter: "Iñigo Martínez is my idol." But Martínez knows how to score goals inside the box as well. He is very powerful in aerial duels and he often scores headers from set pieces. In total, he has 16 goals in 223 La Liga games.
Barcelona are, allegedly, closer than any other team to convincing the Basque player to leave Sociedad. The good news for the other sides showing an interest is that with the World Cup less than 12 months away the defender wants to be playing regularly to ensure he features in Julen Lopetegi's Spain squad.
Martínez's displays last season would be enough to earn him a starting place for either Inter or City, but he would likely need to improve his reliability to feature on a consistent basis for Juventus or Barcelona. Lopetegi guided Spain to victory at the Under-21 European Championships in 2013 with Martinez in toe, alongside the likes of David De Gea, Marc Bartra, Thiago Alcántara, Álvaro Morata and Isco Alarcón.
Leaving the next World Cup aside, there are clear signals showing that Martínez was interested in playing for a big club even when he signed a new deal with Sociedad, a year ago. Despite his wages having increased dramatically, he neglected to raise his buy out clause. In fact, his clause gets lower every year. It started at €32m when he signed a new contract in 2016 and it will decrease to €25m in three seasons time. Martínez has been very clear when he was asked about the chances of leaving the club: "I considered everything and when I say everything is everything."
Marca, who first revealed the departure of Yuri Berchiche one week ago (Paris Saint-Germain have payed €15m for the left back), added that "Sociedad know that a big European club is about to pay Iñigo Martínez's clause". In fact, the Basques payed a record fee for a defender two weeks ago in as they added Diego Llorente to their squad. Was it another sign of Martínez's imminent departure to a top European club? The coming days could be key to revealing the outcome.