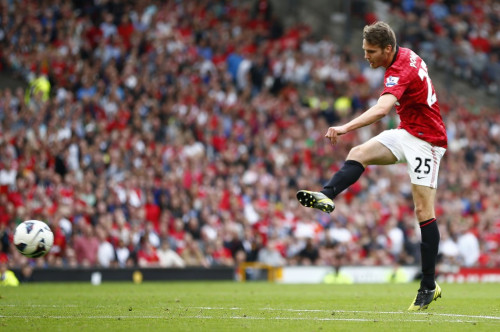 As their season has continued to be plagued by uncertainty and despair, it's not unfair to say the Manchester United's brightest moments of the campaign have taken place away from the club.
While David Moyes' woes have left the first team languishing 11 points behind league leaders Arsenal and with hopes of a title challenge deteriorating to a drunken fantasy, youngsters dispatched on loan have enjoyed marvellous campaigns. Those performances have inevitably seen some calling for premature returns to Old Trafford, something the manager himself has alluded to.
One name heralded as possible saviour to the club's season has been Nick Powell. The 19-year-old has enjoyed an excellent campaign with Wigan Athletic, scoring eight goals in all competitions and proving to be the mainstay of the club's attack despite the managerial upheaval that has taken place at the DW Stadium.
Given United's well documented deficiencies in midfield and the difficult circumstances United are likely to be presented with in the January transfer window, many have pointed to the former Crewe Alexandra man as the possible solution.
The centre of midfield very well may be Powell's home in the future, a notion reinforced after Ferguson named the teenager's as Paul Scholes' eventual heir. The former United boss also revealed he discussed that particular issue with Dario Gradi, former Crewe manager and the man credited with the club's excellent development of young talent over the years.
"I asked Dario if Nick could be a central midfielder. Dario thinks that's his position and Nick does too so we're all in accord. We hope he'll be a central midfield player and that's where we'll develop him," Ferguson said upon the player's arrival last summer.
Such comments would suggest his future lies in a midfield berth, but what about the present? Powell has operated a centre forward for large spells of his spell at Wigan or tucking in behind the striker, keeping out the experienced Grant Holt and fending off the challenge of his United teammate Will Keane, who has just returned to Old Trafford following a two month loan spell.
Prior to his move, Powell was one of the youngsters to figure in the club's Under-21 Premier League success and started a number of games as United's furthest man up the pitch, particularly in the second half of that campaign. On these nights, Adnan Januzaj filled the creative void behind the England Under-21 international, a combination that provided a telling glimpse into the future when they schemed together, such as the evening when United secured a 2-0 win over West Ham in March, with Powell grabbing both goals.
Since that wonderful first team debut marked by a sumptuous strike where the Paul Scholes comparisons were true to see, Powell's greatest asset since has been as a goal scorer, or at least occupying the space behind the goal scorer.
Given United's current lack of options in midfield, is throwing a 19-year-old who hasn't played as a central midfielder for at least a year into the mix a realistic solution? United's lack of class in that area of the pitch has been brutally exposed, and while the introduction of a hungry young player could dispel some of the negativity currently engulfing the club, it's impact at this time is too difficult to judge.
Having had both Ferguson and Gradi wax lyrical over his eventual presence in the heart of midfield, Powell is likely to be given his chance there at some point. But to take the burden of pressure on his side's midfield halfway through a rewarding spell away from Old Trafford may not have the romantic conclusion so many are desperate for.