Tottenham's lack of transfer business this summer has been well publicised. While Mauricio Pochettino's men have seemingly stood still - or even regressed when taking into account the sale of Kyle Walker to Manchester City - their supposed rivals for the Premier League title have been bolstering their respective squads substantially as they aim to improve on their previous showings and leave Spurs trailing in their wake.
Pochettino recently warned Daniel Levy and the rest of the Tottenham hierarchy that fresh faces need to arrive at the club in order to push the current squad and ensure that the Lilywhites remain competitive. But judging by a recent study from bookmakers Bwin which analysed when best to conduct transfers, it may already be too late to make up ground on Chelsea et al.
The study shows that Premier League clubs tend to complete around two thirds of their transfer business before 31 July, with 12% of moves taking place on deadline day. Tottenham failed to recruit any new players before the end of July, much to the irritation of the club's supporters and Pochettino himself, who recently conceded that the Lilywhites have fallen behind their rivals this summer.
The Argentine is understandably fretting over potential new arrivals, but he may have to wait a little while longer for some fresh blood. Over the last five seasons Tottenham have made 47% of their signings after the start of the Premier League campaign, closely followed by West Bromwich Albion, Chelsea and Everton, who all usually complete just over 40% of their recruitment after the first game of the new season.
As previously mentioned, deadline day is always extremely busy for clubs across the top flight, with just over a tenth of transfer business completed during the final 24 hours of the window. Tottenham, notorious for being late movers, concluded an alarming 60% of their summer business on deadline day last summer according to the study, and bucked a trend in doing so.
When clubs leave their transfer business until the last day of the window their performances during the rest of the campaign usually suffer. In 2013/14 Manchester United left it late to confirm the signing of Marouane Fellaini from Everton, who turned out to be the only arrival at Old Trafford that summer after pursuits for Thiago Alcantara, Cesc Fabregas and Gareth Bale failed to bear fruit.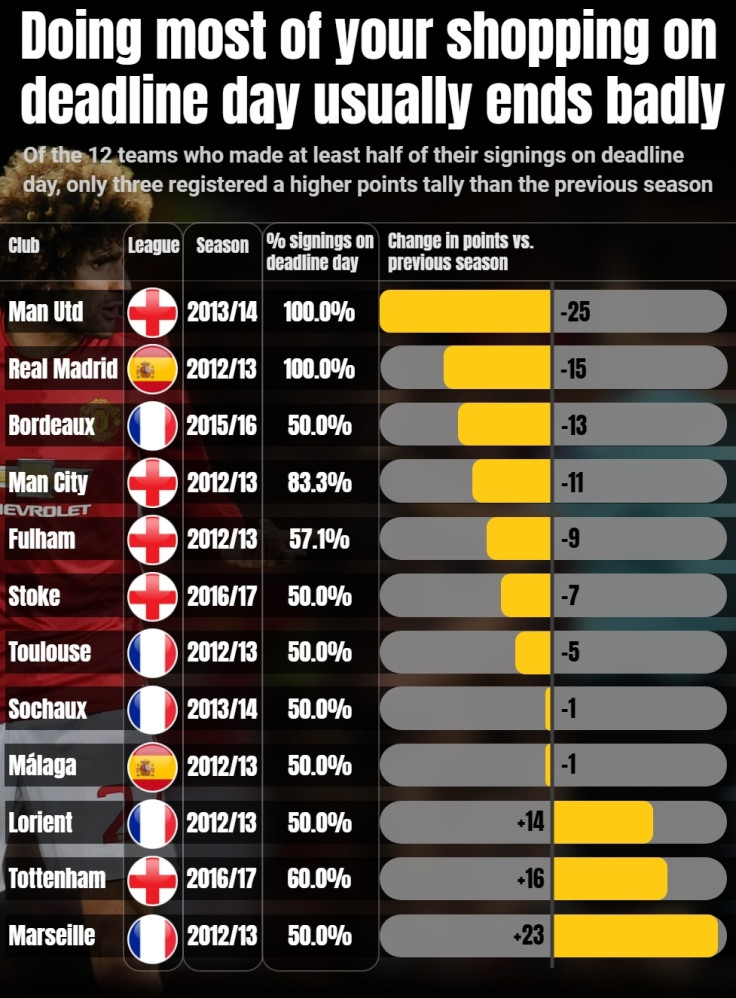 A lamentable approach to the market combined with a number of other mitigating factors saw United, governed by David Moyes, earn 25 points less than they did in the previous season and finish seventh. Moyes predictably was shown the door, while United are yet to fully recover from that abomination of a campaign.
City did not suffer as much as their Manchester rivals the year before, but Roberto Mancini's side's chances of retaining their status as Premier League champions decreased substantially thanks in no small part to their shoddy transfer dealings, of which 83.3 per cent were finalised on deadline day. The Citizens went on to earn 78 points during that 2012/13 season, 11 worse than the year before and the same amount behind eventual champions United.
In total 12 teams have conducted more than half of their business on deadline day during the last five seasons, with nine seeing their points tally suffer as a result. Tottenham, who conducted almost two thirds of their business during the final moments of last year's window, bucked the trend entirely, earning 16 points more than they did in the previous campaign. French sides Lorient and Marseille are the other two sides to see their points tally increase as a result of their late expenditure.
Spurs' late recruitment may not have had an adverse effect last season, but such a belated approach to strengthening the squad cannot be seen as viable, long-term strategy for a club with aspirations of silverware.
Pochettino has one of the best - if not the best - starting line-ups in the Premier League when all his stars are fit and firing, but as he alluded to earlier this week, Levy and co must swiftly delve into their coffers and bring in players who can supplement a supremely talented core already in place in north London. If they fail to do so, Pochettino's claim about Tottenham being left behind by their domestic rivals will soon be backed up by evidence on the pitch.