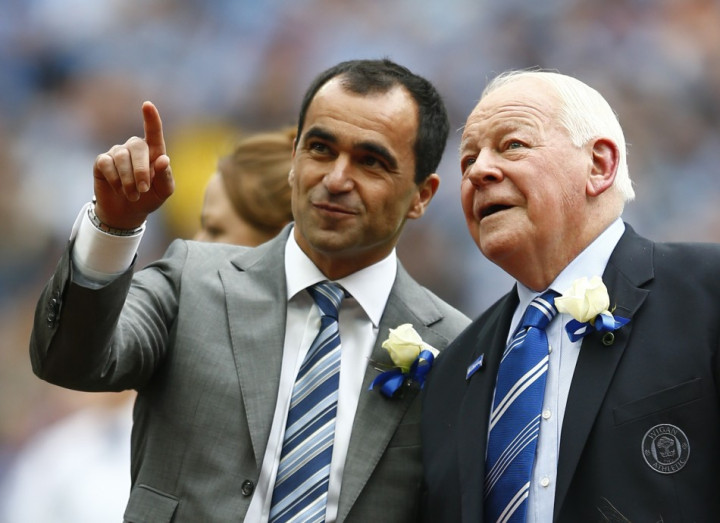 Wigan chairman Dave Whelan has told IBTimes UK he will not stand in the way of manager Roberto Martinez if he wants to leave the club this summer.
However, Whelan says Martinez should not be tempted by a move to Everton, as the Merseyside club is not big enough for the highly rated Spaniard.
Speaking after Wigan's dramatic 1-0 victory over Manchester City in the FA Cup final on Saturday 11 May, Whelan told IBTimes UK: "At the end of every season, we get the same thing. Somebody's short of a manager, Roberto's got to move in. He's not been anywhere yet.
"I do say he will got a big club in Europe sooner or later, and I will release him immediately he asks me. But is Everton big enough for Roberto?
"Everton is a great club, great supporters, fantastic supporters, wonderful place to go, but I don't think it's quite big enough for Roberto. But then that is entirely up to Roberto."
Whelan also told IBTimes UK that Callum McManaman, who earned the man of the match award for his display yesterday, is not for sale.
"Callum's staying with us, yeah. I defended Callum [when he received criticism for a bad challenge on Newcastle's Massadio Haidara]. He didn't go over the ball; he just had a collision.
"I defended him strongly then. Callum's a Wigan player now, he's staying with us."
When asked what would happen if Wigan received an offer of £15m for the Liverpool-born winger, Whelan said: "I listen to Roberto.
"If Roberto says I'm going to buy a player, we have to know how much it is. If Roberto says he wants to sell a player, he's the boss, not me. And I back him, whatever he wants and whatever he wants to do."
More on the FA Cup final: Wigan Hero Ben Watson Exclusive Interview