After revealing the release date and pricing for its Wii U last week (13 September) Nintendo has already seen pre-orders for the console sell out at retailers across the US.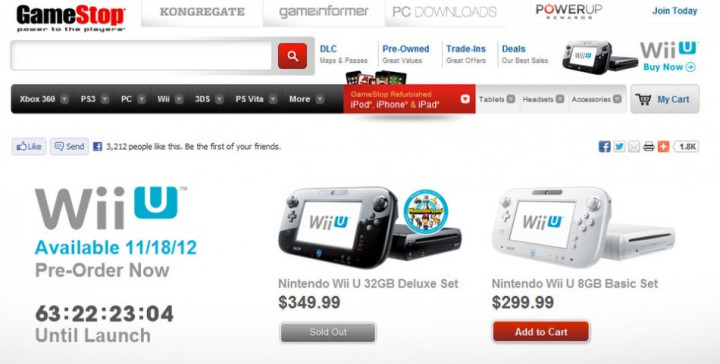 Walmart is still accepting orders for both the Premium and Basic Wii U consoles, but Sears, Best Buy and Toys R'Us are all completely sold out. GameStop still has Basic models available.
In the UK, GAME is still taking pre-orders for both versions of the Wii U.
Officially unveiled at a press conference in New York City, the Wii U will launch in North America on 18 November, with the Basic and Premium editions priced at $299.99 and $349.99 respectively. The European launch will come twelve days later, on 30 November. Tesco is currently asking £249 for a Basic 8 GB Wii U and £299 for the 32GB Premium model.
Call of Duty: Black Ops 2, Mass Effect 3: Special Edition and FIFA 13 are just some of the games confirmed for the Wii U's UK launch date. The five-month "launch window" is set to feature Assassin's Creed III, Darksiders II, Batman: Arkham City and upcoming James Bond game 007 Legends.
Confirmed first-party titles include a new Mario game, New Super Mario Bros U and Nintendo Land, which will be included in the Wii U Premium bundle. A version of the Premium pack which features ZombiU instead of Nintendo Land, and a black control pad, will also be available from launch day.