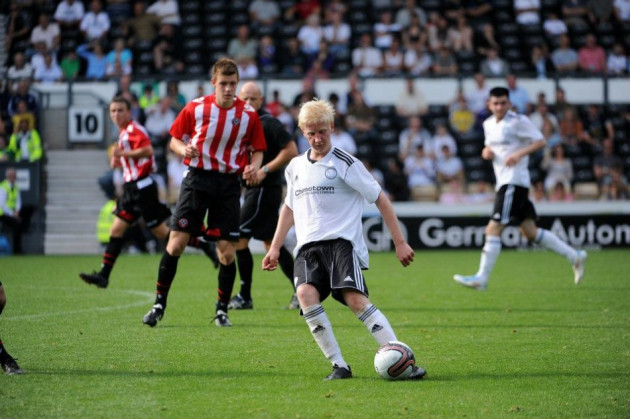 Manchester United manager David Moyes will launch a bid for Derby County midfielder Will Hughes in the January transfer window despite interest from Liverpool, according to The Daily Mail.
Hughes is among the finest products of a proficient Pride Park youth system and is earning rave reviews for his Championship performances.
The England Under-21 international, withdrawn from the games against San Marino and Lithuanian this week due to injury, has already been valued at £6m by former manager Nigel Clough while his successor Steve McClaren has admitted the club will eventually have to sell the player.
And that time might come sooner into McClaren's reign at Derby than he might have hoped with United prepping a bid for Hughes in the upcoming January transfer window as Moyes looks to added much needed creativity to his midfield.
Moyes has come under increasing pressure at Old Trafford after enduring a torrid summer transfer window, while United have lost three of their opening seven matches in the defence of their Premier League title.
Marouane Fellaini was the sole addition to the first team in the summer but United still require a creative midfielder to take the onus off Michael Carrick.
United's interest comes after Liverpool were linked with a bid for the 18 year old this January.
Brendan Rodgers' side enjoyed a transfer window in stark contrast to their rivals, making eight new signings and as a result Liverpool have begun the season in impressive form with five wins from seven games and only Arsenal separating them from the league's summit.
The greatest challenge facing Rodgers in the coming years is finding a replacement for captain Steven Gerrard in the Liverpool midfield but in Hughes, the Reds might have struck upon a player with the passing range and mobility to mirror the England captain.
New manager McClaren, a former United assistant under Sir Alex Ferguson, said earlier this week that Hughes' days at Derby were numbered
"Our job is to make sure he makes it," McClaren said. "Eventually he will be too good. What we need behind that is players coming through to replace him."