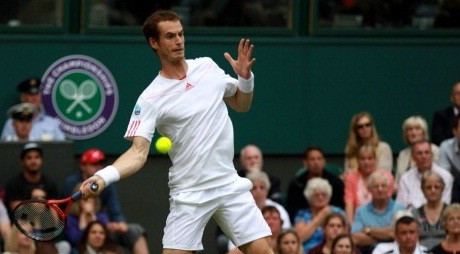 Lukas Rosol's shocking five-set dismissal of two-time world champion and former world number one Rafael Nadal is still the topic of much discussion around the grass courts of Wimbledon. Apart from the match itself and the usual questions surrounding both players, a lot of the debate has also surrounded the title prospects of Andy Murray who, had Nadal held off Rosol, would have met the Spaniard in the latter stages of the tournament.
Rosol's defeat of Nadal, likened by the Telegraph to a second-string Czech Republic football club beating a Cristiano Ronaldo-led Real Madrid, has removed what is, statistically, the biggest hurdle in Murray's path to the title. Two others, of course, remain - world number one and defending champion Novak Djokovic and seven time Wimbledon champion and world number three Roger Federer - but a potential semi final clash between them should eliminate one and leave Murray, as three time former champion Boris Becker said in the Telegraph, "a real crack at this Wimbledon title".
The charismatic and hugely popular German ace stressed on what he considered was the most important rule to remember when playing at Wimbledon - what he called "the golden rule" - "never get ahead of yourself and don't think about what might happen in a couple of rounds' time, because some guy can pop up and play the match of his life at any moment".
Murray would do well to heed the former champion's words because his next opponent has something of a reputation for being a hard man to beat - Marcos Baghdatis. The 27 year old Cypriot is ranked 42 in the world right now but has been as high as eight. Equally importantly, he does have experience of the pressure of Wimbledon and other Grand Slams, having made the final of the Australian Open in 2006 and the semi final at SW19 in the same year.
Crucially though, Murray has played Baghdatis at Wimbledon before... and has lost. This was back in 2006 and arguably the United Kingdom's biggest hometown hero hopeful since Fred Perry in 1936 has improved but Murray should remember that game - he lost 3-6, 4-6, 6(2)-7 in the quarter final. It is matches like the one against Baghdatis and opponents like the Cypriot that Becker indicates can be the most dangerous.
"Everyone is already talking about what a great result this was for Andy Murray. And I am sure that Andy would have had a little smile on his face when he went to sleep last night. But on Friday he was businesslike, reminding us all that - so far - the only man immediately affected by Nadal's exit is Rosol's next opponent, Philipp Kohlschreiber. It was exactly the right approach for Murray to take, and it supports my theory that he has learned how to deal with the pressure of being the home favourite at Wimbledon," Becker stated.
The German's impression of Murray, he stated, improved after the confident manner in which he beat Russian Nikolay Davydenko and Croatian Ivo Karlovic, adding that it indicated confidence and a good balance to his game.
"My concern was that Andy might be vulnerable in his first couple of matches. But as soon as he gets back onto Centre Court he seems to click into rhythm," the six-time Grand Slam winner confessed, adding, on a note of caution, "as the leading seed left in the bottom half of the draw, he is in a very agreeable position. Not that his Wimbledon fortnight is going to be easy from here, of course. As the Rosol-Nadal match shows, grass is the toughest surface when someone comes out and blitzes a stack of winners. Things can get away from you so fast, and it is difficult to regroup."
Incidentally, Becker's semi final predictions:
Andy Murray (GBR)[4] vs Jo-Wilfried Tsonga (FRA)[5]
Novak Djokovic (SRB)[1] vs Roger Federer (SUI)[3]
And catch IBTimes UK's full preview of Day Six here, as well as information on where and how to watch all the action, live!