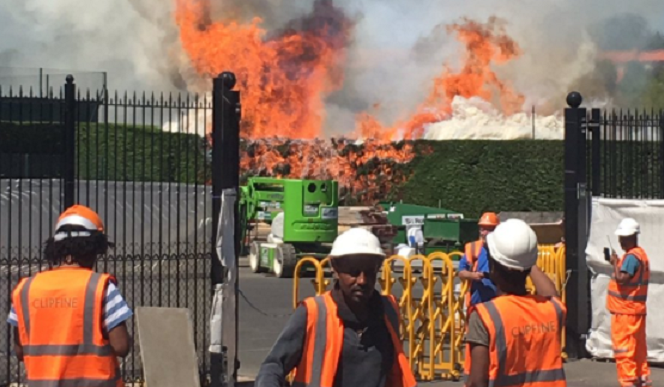 The world-famous All England Club in Wimbledon, London, home to the the world's most iconic tennis tournament, has caught fire just weeks before the 2017 event begins.
Some 21 firefighters and four fire engines were called to the incident in south-west London just after 12.33pm on 26 May, according to the London Fire Brigade (LFB).
A picture from the LFB shared widely on Twitter appeared to show a hedge, situated next to heavy machinery, ablaze.
The London Fire Brigade tweeted: "Four fire engines are currently attending reports of a fire in the practice court area of the All England Tennis Club in Wimbledon.
"Crews are tackling an area of shrubbery alight in the practice court area."
In the picture, workmen can be seen looking on from a safe distance.
The nearby piece of machinery is known as a "cherry picker" and is used to provide a working platform at height.
The fire was reported to be close to the iconic No 1 court.
LFB say they have now extinguished the flames an an investigation is underway to ascertain its cause.
They add that 20 metres of hedge, a marquee and some building materials were damaged.
The Wimbledon tennis tournament, officially known as The Championships, is one of the world's biggest sporting events.The 2017 competition is due to begin on 3 July.
The Championships is the oldest and most prestigious tennis tournament in the world.
Each year, the tournament attracts millions of pounds of corporate sponsorship with several marquees hosting events around the tennis courts.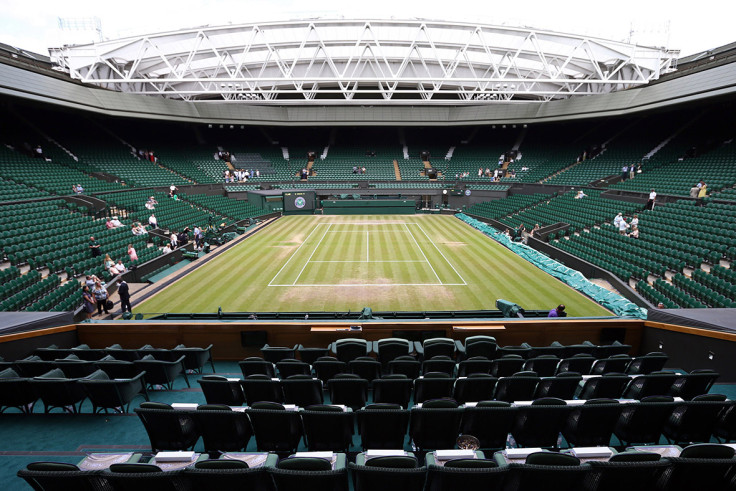 In a full statement after the incident, the LFB said: "Four fire engines and 21 firefighters and officers have been called to reports of a fire in the practice court area of the All England Tennis and Croquet Club on Church Road in Wimbledon.
"The fire damaged around one tonne of mixed building materials, around 20 metres of hedgerow and a small section of a temporary marquee.
The Brigade was called at 1233 and the fire was under control at 1322. Crews from Tooting, Wandsworth, Fulham and New Malden fire stations are at the scene. The cause of the fire is under investigation."