Microsoft's next major update to Windows Phone 8, Windows Phone 8.1, is now available for developers with a bunch of notable new features.
With new Action Center, Cortana virtual assistant, new Dialer app, universal search, Internet Explorer 11, Quite Hours mode and several more goodies, the Windows Phone 8.1 will be officially released soon.
Prior to the public roll-out, GSMArena has conducted a series of benchmark tests for the new Windows Phone operating system, revealing its performance compared to its predecessor.
It should be noted that the tests use three Lumia smartphones- Lumia 720, Lumia 1020 and Lumia 1520. Benchmarks were performed on Windows Phone 8 with GDR3 and Nokia Black updates and the devices were updated to Windows Phone 8.1 Developer Preview versions.
Starting with the Pi Benchmark test, which measures the speed of the CPU and memory, all the Lumia smartphones performed same with both the operating system (OS) versions. This is not surprising, as it is a CUP-intensive test.
The Lumia 1520 was the winner in Pi Benchmark with 146 points (as lower score is considered better), the Lumia 1020 scored 215, whereas the Lumia 720 at 336 points.
As the In AnTuTu benchmark test result suggests, there is a marginal difference among the scores of all three Lumia smartphones running both Phone 8.1 and Phone 8, with not much significant rise or fall in the performance. Hence the test does not offer any conclusive finding about the performance of Windows Phone 8.1.
The AnTuTu benchmark is a comprehensive benchmark application including Memory performance, CPU integer performance, CPU floating point performance, 2D 3D graphics performance, SD card read-write speed and Database IO performance testing.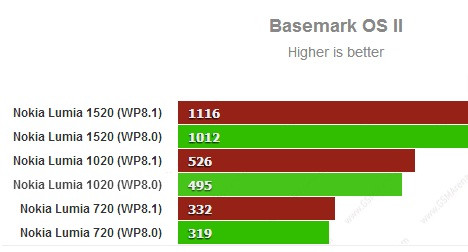 The Lumia handsets running Windows Phone 8.1 performed noticeably better than on Phone 8 in the Basemark OS II, a cross-platform All-in-one benchmarking tool that evaluates the overall performance of devices.
The test also suggests the new Windows Phone version brings performance enhancements over its predecessor. The Lumia 1520 with Phone 8.1 grabbed the first place in the list, scoring 1116.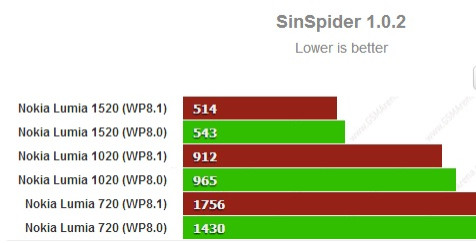 The SunSpider JavaScript benchmark suggests the new Internet Explorer 11 of Windows Phone 8.1, which integrates lots of new goodies and performance improvements on Lumia 1520 and Lumia 1020, offers boost of its JavaScript capabilities.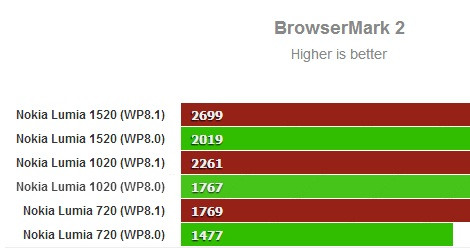 The Browsermark 2 compound benchmark, which tests the web browsers in several departments, suggests the Internet Explorer 11 of Windows Phone 8.1 is indeed better as well as faster than the Internet Explorer 10, which comes with Windows Phone 8.
Finally in the HTML5 benchmark, which tests how the browser supports the upcoming HTML5 standards, the Lumia devices running Windows Phone 8.1 again showed bump in HTML5 capabilities.
The series of benchmark tests suggests the Windows Phone 8.1 indeed offers speed improvements over the Windows Phone 8.