Microsoft launched Windows Phone 8 this week, and along with the new operating system, smartphones from HTC, Nokia and Samsung were also launched, all of which are due to go on sale in November.
Here is a look at all the phones which will use the new operating system:
HTC Windows Phone 8X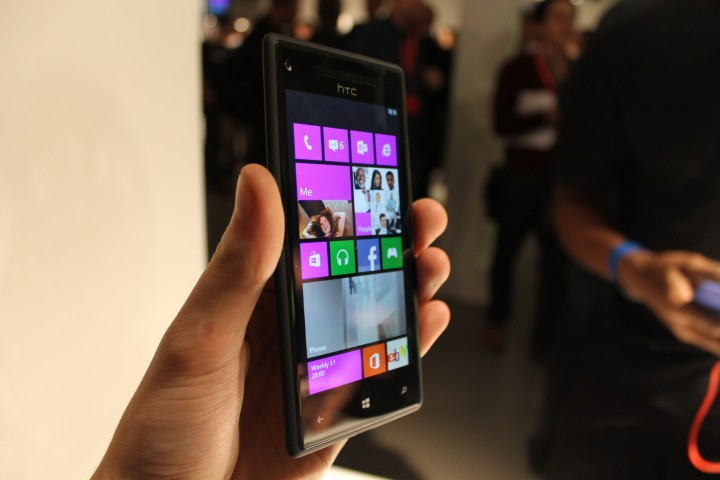 Microsoft and HTC have joined forces to make the HTC 8X the face of Windows Phone 8 - a move that has no doubt annoyed rivals Samsung and Nokia, who both have their own Windows Phone 8 devices going on sale imminently, but without WP8 in their name.
Looking not too dissimilar to the Nokia Lumia series of smartphones, the HTC Windows Phone 8X will ship in a choice of four colours - blue, black, red and yellow - from 9 November in the UK
Inside, there's a 1.5GHz dual-core processor, 16GB of storage (but no microSD slot to increase that) and NFC support. The device has a 4.3in display capable of showing 720p HD video and, as with all recent HTC phones, the 8X offers Beats Audio technology which is claimed to improve music quality.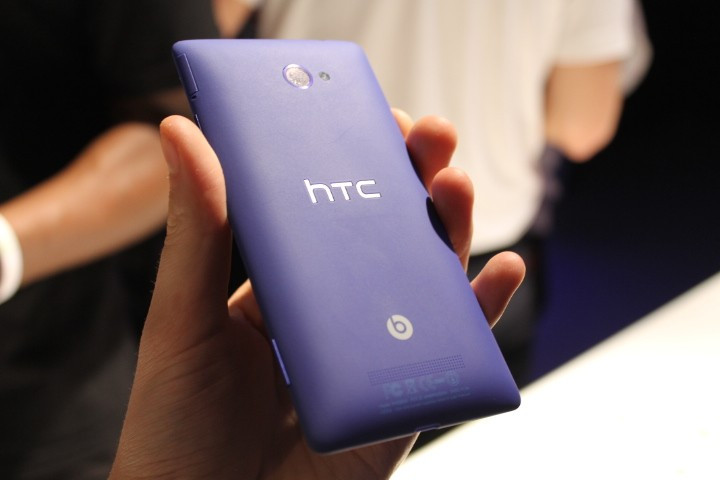 Around the back, HTC has fitted an 8 megapixel cameras with an LED flash and the front-facing camera has a 2.1 megapixel sensor, which is much larger than we usually see, even on high-end smartphones.
At 130g, the 8X is noticeably lighter than most of its rivals, and the rubberised and curved back makes it incredibly comfortable to hold.
Despite being HTC's flagship Windows Phone 8 device, the 8X will be free with contracts from £31-a-month.
HTC Windows Phone 8S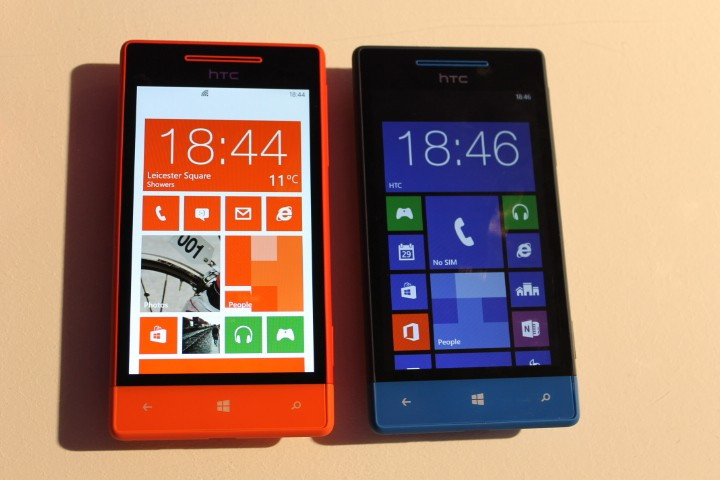 Coming in below the 8X, the HTC Windows Phone 8S has a slightly smaller 4in screen, a less powerful 1GHz dual-core processor and half the RAM of the 8X, down to 512MB.
Screen resolution for the 8S is down to just 480 x 800, giving it a pixel density of 233 pixels per inch (ppi), but during our brief hands-on time with it, we found the Windows Phone 8 interface to be perfectly readable.
As with the larger 8X, the HTC 8S has a brightly coloured design which reflects the Windows Phone 8 operating system, and it can be had in red, blue, grey and a colour HTC is calling 'Domino'.
There's no front-facing camera on the 8S, but HTC has installed a 5 megapixel camera in the back with autofocus and an LED flash.
Weighing 113g, the HTC 8S is just a gram heavier than the iPhone 5, meaning it feels incredibly light, and the 8S shares the same rubberised back and bright colours as the 8X
The 8S also gets Beats Audio and, although it is missing the extra amplifier of the 8X, it does get the software enhancements that claim to improve the quality of your music - although it can of course be turned off if you prefer.
The HTC Windows Phone 8S will be available from the middle of November and it'll be free on contracts of £20.50-a-month and above.
Nokia Lumia 920
With a 4.5in high definition screen and 8.7 megapixel camera with 'floating lens' technology, the Lumia 920 is Nokia's flagship Windows Phone 8 device.
Borrowing the same brightly coloured plastic design from previous Lumias, the 920 is powered by a 1.5GHz dual-core SnapDragon processor and 1GB of RAM.
Measuring 130 x 71mm and 10.7mm thick, the Lumia 920 is a large device that we found difficult to use in one hand, and its glossy plastic finish made it feel less secure than the rubberised HTCs we mentioned earlier.
Nokia has taken the strange move of not including a microSD card slot with the Lumia 920, so the 32GB of internal storage cannot be updated, although the cheaper Lumia 820 (below) does feature expandable memory.
The Lumia 920's party trick is it's camera with floating lens technology, which helps to significantly cut down on motion blur and helps to stabilise the camera.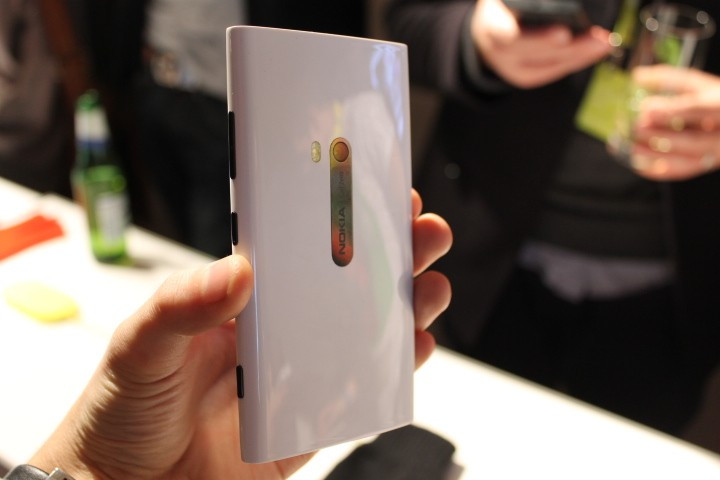 This makes for sharper photos, but also helps to improve low light performance, as the shutter can be kept open for longer, taking in more light, without images becoming blurry.
During our brief time with the Lumia 920 we were impressed by the camera's stability, although we need more time to test it fully once the phone goes on sale in November.
Not all networks have announced prices for the Lumia 920, but EE has said that the Nokia will cost between £20 and £130 up front, on two year contracts ranging from £36 to £56-a-month. That of course is on EE's newly-launched 4G network.
Nokia Lumia 820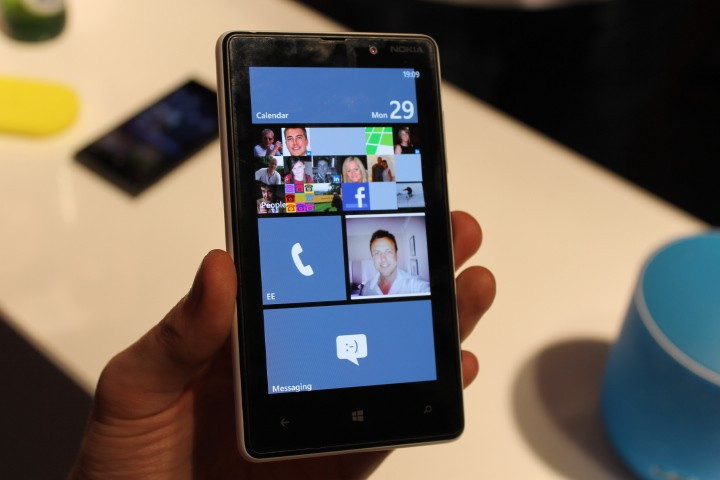 Just as HTC has a high- and mid-range Windows Phone 8 handset, Nokia has the Lumia 920 backed up by the less spectacular Lumia 820.
Featuring a slightly smaller 4.5in AMOLED display with a decreased resolution of 480 x 800 and pixel density of 217ppi, the Lumia 820 is Nokia's budget Windows Phone 8 offering, and will compete directly with the HTC 8S.
The Lumia 820 is powered by a 1.5GHz dual-core processor with 1GB of RAM - meaning, on paper at least, it should be faster than the HTC 8S - and, while there's just 8GB of internal storage, Nokia has included a microSD card reader, so that can be increased by up to 32GB.
Nokia has not included the Lumia 920's 'Pureview' floating lens technology in the 820, but the cheaper phone still gets an 8 megapixel sensor with auto focus and LED flash - just the stability and low light performance isn't as good.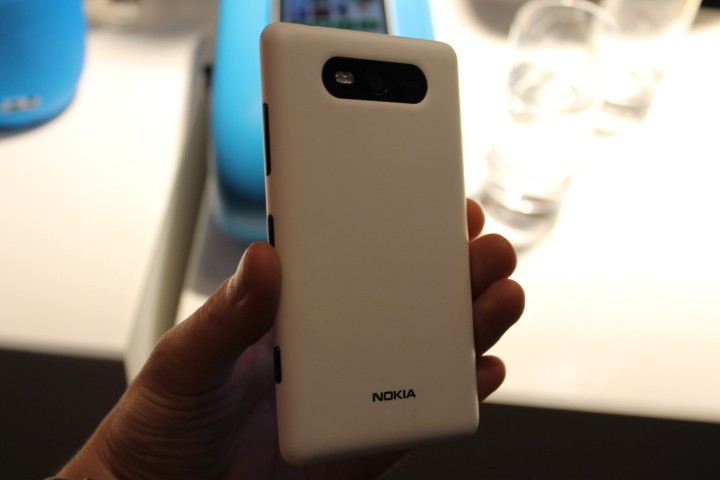 Measuring 9.9mm thick, the Lumia 820 is almost exactly the same thickness as the Lumia 920, which makes the phone feel a little on the chunky side; and by having quite a wide bezel around the screen, the display looks like it is too small for the phone and could be bigger.
Both of these aspects make the Nokia Lumia 820 look a little cheap, but then it is expected to be free on contracts from around £20 per month and the LTE version is even free on all of EE's 4G tariffs.
Samsung Ativ S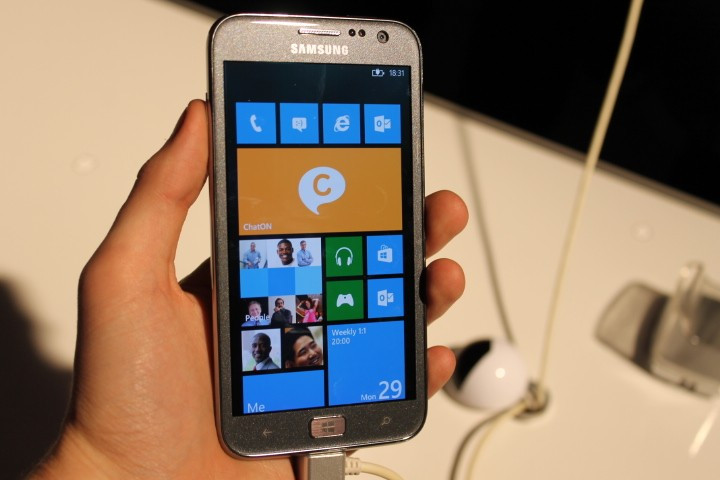 Because of its 4.8in HD Super AMOLED display with 1280 x 720 resolution and glossy plastic finish, the Ativ S is very similar to the Galaxy S3 when you first see the phone. But spot the iconic Windows home button below the screen and 'Windows Phone 8' on the rear, and you realise that this device is something entirely different.
Sadly, we didn't get long to look at the Ativ S, but what we can say is that the 1.5GHz dual-core processor of the Ativ S handles WP8 with no problems at all, as the entire user interface, with it's unique tiled design, feels very sharp and responsive.
The Ativ S weighs 135g, noticeably more than the featherweight iPhone 5, but still surprisingly light for a phone of this size with a screen almost an inch bigger than that of the newest iPhone.
As you would expect, feels very similar to the Galaxy S3, and that means it's a mashup of glass screen and cheap-feeling plastic with a fake metal finish; we've said this many times before, but we don't like the plastics used by Samsung and they have no place on a phone in the £400-£500 price range.
Samsung has given the Ativ S storage options of 16GB or 32GB and there is a microSD card slot, so you can increase that by a further 32GB.
The Ativ S gets the same 8-megapixel camera as the Galaxy S3 and the battery has been made slightly larger, up from 2,100mAh to 2,300mAh.
Contracts for the Samsung will start at £36-a-month and it will be available from the middle of November.