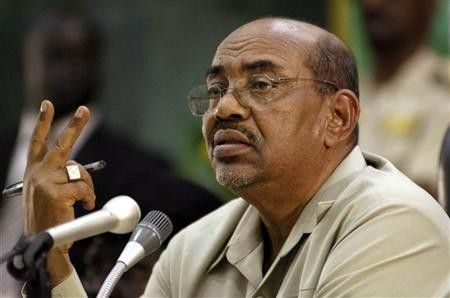 Sudan's President Omar al-Bashir has pledged his support to South Sudan, which gains its independence from the north on Saturday.
"We will bless our brothers in the south over their country and we wish them success," he said, state TV quoted him as saying.
The president said he wanted the new country to be "secure and stable" but pointed out that "brotherly relations" depended on secure borders and non-interference in each other's affairs.
In a referendum in January, Southerners voted to split from Sudan, following the 2005 peace deal that ended more than two decades of civil war - in which an estimated 1.5 million died.
Despite the peace deal, fighting between the North and the South of the country has in the last year been increasing and many feared that a new civil war was about to start as more than 170,000 people were forced to flee their home in the area close to Abyei and South Kordofan.
But separate deals in recent weeks, and the withdrawal of rival forces from the border, have calmed tensions.
"We reiterate our readiness to stand with them and support them because they want their country," said Mr Bashir, who is due in the southern capital, Juba, on Saturday for the independence celebrations.
"We will not interfere in your internal affairs. Likewise, we will not allow you to interfere in our internal affairs," he warned.
"We are capable of responding but we do not want to.
He said he wanted "good neighbourliness and friendship", as well as good trade links.
Mr Bashir softened attitude towards the south is however not surprising as a good relationship will be necessary if he is to negotiate a favourable deal on oil revenue, since most oilfields lie in the south.
While Khartoum still has some leverage, as most of the oil pipelines flow north to Port Sudan on the Red Sea, from tomorrow its economic situation risks changing as until then, the revenues were being shared equally.
Meanwhile, while South Soudan might officially gain independence on Saturday, its humanitarian situation is still critical and many challenges lie ahead.
One in three of South Sudan's children are severely malnourished and maternal mortality rates are the highest in the world. More than half of primary school aged children are not in school. Shocking figures reveal that young girls are more likely to die in pregnancy or childbirth than achieve literacy.
Despite Bashir's speech, prospects for peace are looking glim as while the president claimed his support to the south, thousands of Dinka people living in the area of Abyei, are still forced to flee as Sudanese armed forces and allied militia have embarked on ethnic cleansing in South Kordofan state.
South Sudan, once independent will also have to face its own internal secessionist claims as the Nuba Mountains and Blue Nile state are likely to demand greater autonomy and as a consequence, a failure to rapidly find political solutions and to implement new reforms can lead to another series of internal conflicts.
Failure to find political solutions will lock north and south into an endless series of destabilising cross-border conflicts.
And as al-Bashir just announced his rejection of the framework agreement recently signed between the Sudanese government and Sudan People's Liberation Movement (SPLM)-northern sector, on South Kordofan and Blue Nile areas, peace now sounds even more difficult to envision.
"After the SPLM launched a treacherous operation in South Kordofan, now they want an agreement on political partnership. There will not be any political partnership before the security arrangements," said al-Bashir when addressing a gathering in Al- Duwaim town in White Nile State, which was aired live by official Sudan TV Thursday.
"No negotiation with arms carriers. We will firmly confront whoever carries arms," he said.
"They (SPLM-northern sector) are to implement the Comprehensive Peace Agreement (CPA) and abide by the security arrangements, and then we will sit down with them for dialogue in Khartoum and not in Addis Ababa or anywhere else outside Sudan," he added.
The Sudanese government and the SPLM signed a framework agreement on June 28 in Addis Ababa regarding South Kordofan State under the facilitation of the African Union High-Level Implementation Panel on Sudan (AUHIP) chaired by former President of South Africa Thabo Mbeki.
"The SPLM delegation to the Addis Ababa negotiations has been officially notified by the AUHIP that the Sudanese President Omar al-Bashir has informed them that the political issues in the framework agreement were not subject to discussion in Addis Ababa under the AU umbrella," the SPLM said in a statement.