Withings Activité Pop Review: the best fitness tracker on the market
Withings Activité Pop Key Features
Syncs time and movement data to iPhone via Bluetooth.
Automatically changes for time zone and daylight saving hours.
Walking/running/swimming/sleep tracking.
Waterproof to 30 metres.
Eight months battery life.
Price as reviewed: £120.
Release Date: Late January.
Activité Pop Review
At CES 2015 in Las Vegas the most most noticeable thing about the smartwatch space was the complete lack of high profile launches.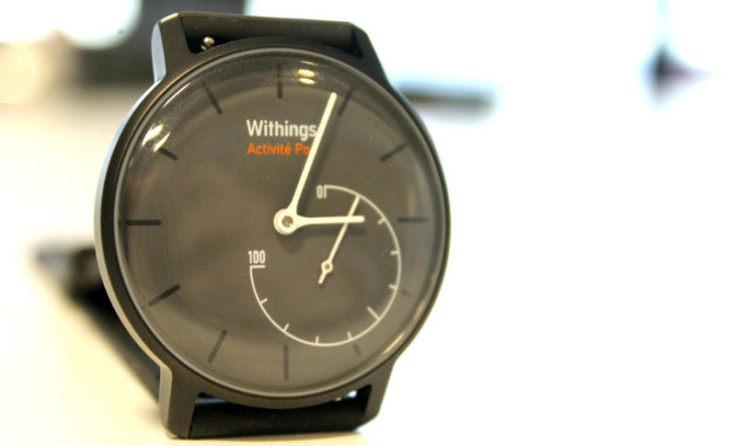 It is safe to say the smartwatch market is in somewhat of a holding pattern until later this year when the Apple Watch is launched, and until then people are stuck with a smattering of devices from manufacturers such as Samsung, Motorola and LG - all of which feature Android Wear and pretty terrible battery life.
There was however one company in Vegas making waves in the smartwatch market, and that was Withings, which launched the Activité Pop, a budget version of its watch/fitness tracker which came to market last year.
Withings CEO Cedric Hutchings told me that he doesn't consider the Activité a smartwatch as the category has been defined by the media, but as a smarter watch, offering the benefits of a traditional timepiece with the features of a fitness tracker.
The Activité Pop goes on sale at the end of January, but IBTimes UK has been given advanced access to one of the new devices to see how it measures up.
Activité Pop Design
The Activité Pop is essentially the same as last year's model in terms of features, with the main difference being the look and feel.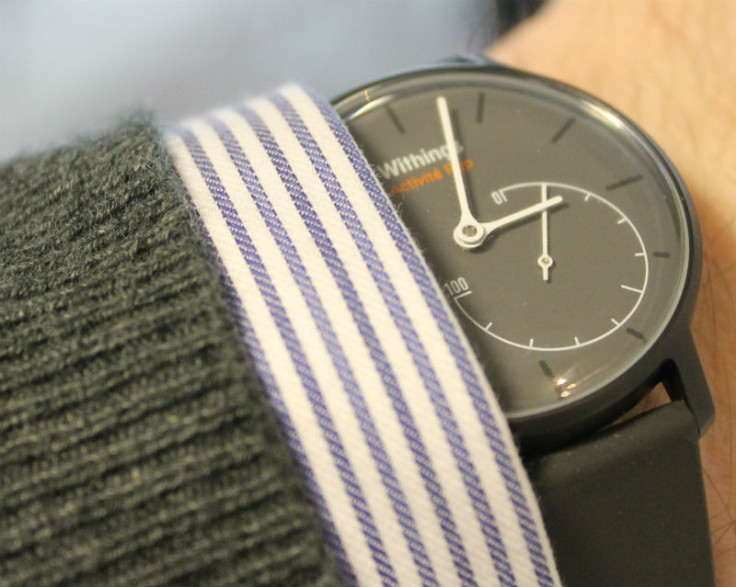 Withings Activité Pop Review
IBTimes UK
Where the original features a stainless steel case, calf's leather strap, and sapphire glass, the Activité Pop is all silicone and plastic. The original is also manufactured in Switzerland while the Pop is made in China.
It sounds like it should feel cheap and nasty, but it doesn't. Withings has done well to create a product which costs £200 less but doesn't necessarily feel it.
Of course the original feels much more premium and for some this will be worth the £200, but for me, the stylish and minimalist design of the Activité Pop looks great though the silicone strap is a little flimsy.
The Activité Pop is fully waterproof and comes in three colours (blue, black and beige) and there are a further three coloured straps coming to allow you personalise your watch further.
Activité Pop Features
Just like the original, the Activité Pop will track your activity (walking, running and swimming) as well as your sleep patterns.

The watch face displays the time on the main analogue dial while the smaller dial shows just how close you are to completing your daily goal. The daily goal of 10,000 steps is pre-set and sadly can't be changed.
And that's about it for features. You won't get email or text notifications. You won't be able to make phone calls. As Withings say, this is a smarter watch and not a smart watch.
Activité Pop Software
To see just how much (or little) you have moved during the day and how much sleep you've got at night, you will need to pair your Activité Pop your iPhone (an Android app is on the way apparently).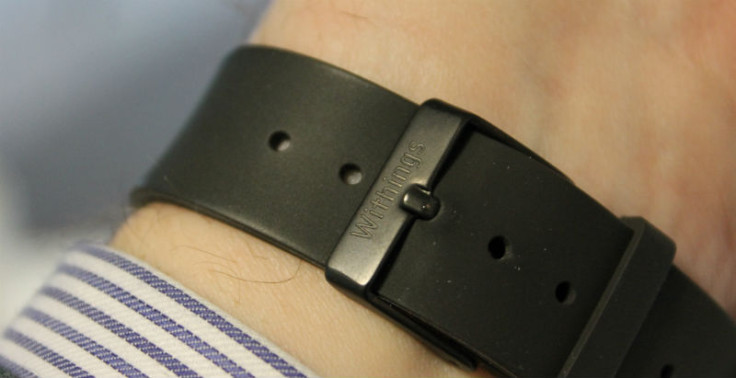 Withings Activité Pop Review
IBTimes UK
Syncing is done via the low-power Bluetooth 4.0 standard meaning the watch needs to be within 10 feet of your phone to work.
It does take some time for the data to sync and at times it took a number of goes before the connection worked.
Once synced the data is displayed on Withings Health Mate app giving you a graphical view of your daily activity and sleep pattern.
You can compare daily or weekly graphs to see if you are getting more or less active, and the app will also give you notifications congratulating you on reaching a certain milestone or nudging you to get off the couch.
The app also works in conjunction with Withings other connected devices, such as its blood pressure monitor and wireless weighing scales, to give you a more rounded view of your health.
The app is also used to set a silent alarm which will see the Activité Pop vibrate several times at the appointed hour, though you can't cancel it even if you are awake.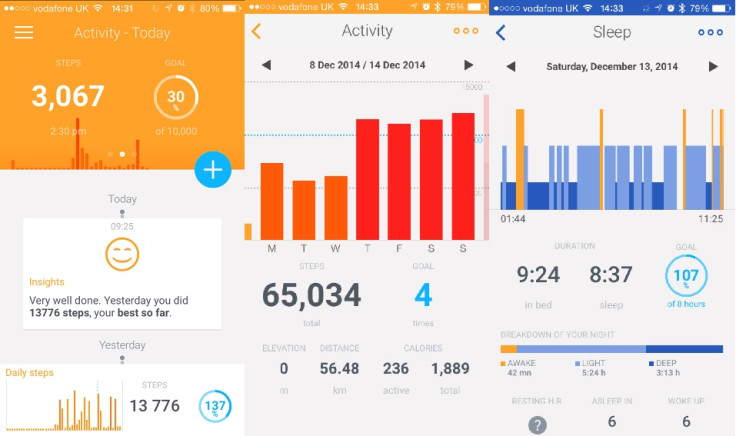 You can check what time your alarm is set for by double tapping the watch face, causing the dial to briefly move to the appointed alarm time, before returning to the current time. Again this worked, but at times it took a number of goes to get the dial moving.
Finally, the credentials that this is a smarter watch are buoyed by the fact the time will automatically update when you move time zones or begin/end daylight savings time - so no more excuses for being late for work.
Activité Pop Battery life
Hutchings said that for a product to be truly called a wearable then its battery life had to last longer than a couple of days.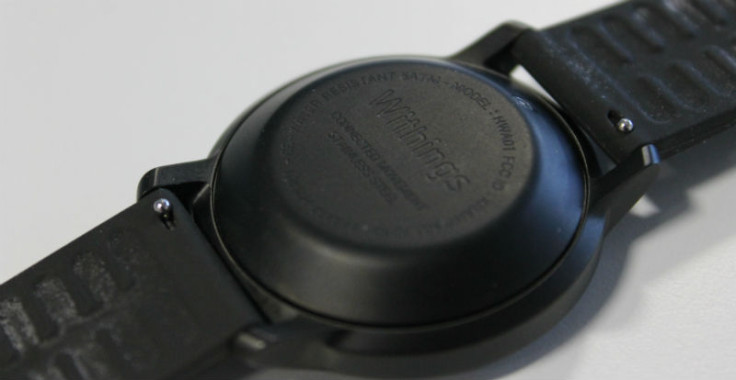 The Activité Pop promises a battery life of eight months, and thanks to its waterproof credentials, this makes it a true wearable.
Of course I can't vouch for the validity of Withings claims, but at least you won't be charging the Activité Pop every night. The battery is a regular watch battery and an included tool promises to make changing it easy.
Activité Pop Verdict
This is more fitness tracker than smartwatch as we have come to define the category. In my mind it solves the battery problem of the latter while adding the functionality of a traditional watch to a regular fitness tracker.
As a watch wearer this is just the type of device I would wear on an on-going basis and Withings' slim and minimalist design makes it an attractive accessory that doesn't scream I'm a fitness tracker!"
And at £119, a price comparable to trackers on the market from Fitbit, Jawbone and Nike, the Activité Pop is a bargain.
Withings Activité Pop Scores:
Design: 9/10 - Minimalist, simple and clean with attractive colour options available.
Build Quality: 9/10 - Not quite the level of craftsmanship of the Swiss-made original, but for the price it feels great.
Software: 7/10 - The app is cluttered and lacks the flexibility of other fitness platforms.
Features: 8/10 - This is not a smartwatch so lacks notifications but tracks walking, running, swimming and sleeping
Overall: 9/10 - All the features of the original at almost one third the price without feeling cheap.
The Good:
Stylish design with multiple colour options.
Waterproof.
Great value for money.
Long battery life.
The Bad:
No Android support.
Can't change daily goal.
No option for multiple alarms.
© Copyright IBTimes 2023. All rights reserved.