Withings Activité review: The smartest smartwatch proves less is more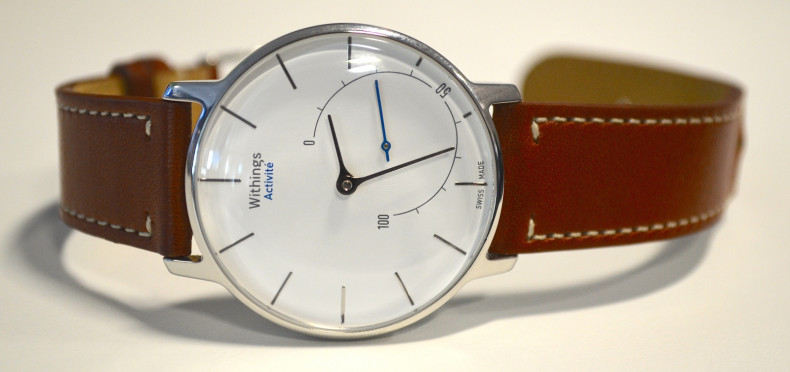 Withings Activité Key Features
Syncs time and movement data to iPhone via Bluetooth.
Automatically changes for time zone and daylight saving hours.
Walking/running/swimming/sleep tracking.
Waterproof to 50 minutes.
Eight months battery life.
Second plastic strap included.
Price as reviewed: £320.
Withings Activité Review
Most people know smartwatches to be chunky and ugly, with poor battery life, limited functionality, and more in common with a prop from a cheap sci-fi film than the next must-have gadget.
But then along came the Withings Activité, a smartwatch which looks like a regular mechanical watch, but one which can track your walking, running, swimming and sleep. It blends analogue with digital, and Switzerland with Silicon Valley, to create a timepiece which is both beautiful and functional.

I loved the Activité from the moment I saw the first press photos and, having bought one myself, here's what owning the smartest smartwatch is like.
Withings Activité: Design and Build
First and foremost, the Activité looks and feels like a proper watch. It has a stainless steel case, calf hide leather strap and a simple, elegant face. The time is displayed like any other watch, while the second dial shows how far you are through your daily steps target.
Available with a white face and tan strap, or black and black, the Activité wouldn't look out of place in any watch shop, and both models come with a second silicon strap to use when swimming. The watch is waterproof to five atmospheres (50 meters).
Any standard 18mm straps can be fitted, and the lugs of the Activité's straps have a quick release mechanism to make swapping them easier.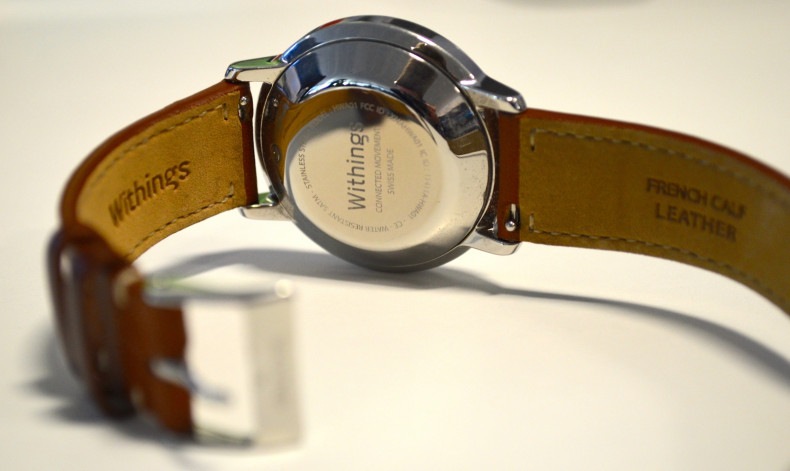 Viewed side-on, the Activité's case is thicker than most regular watches, partly due to the sapphire glass arching outwards to magnify the face, but also due to the rear extending to house the watch's smart internals. But this sinks snugly into your wrist, so the watch stands out no more than any other.
Where the size of other smartwatches makes them difficult to aim at the women's market, the Activité's slim strap and 36mm face make it an appealing size for both men and women.
Withings Activité: Activity Tracking & Software
Using an accelerometer, the Activité tracks every movement you make through every day and night. During the day, movements are translated into walking, running and swimming, while at night (or if you fancy a Sunday afternoon nap) the watch automatically recognises and records your sleep.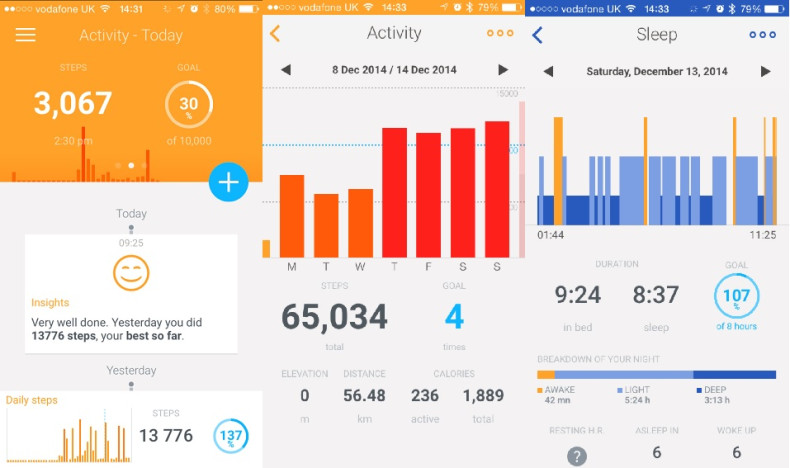 The free iOS app (Android support is coming soon) shows your daily step count, distance walked and calories burnt. Each movement is logged on a bar graph, with mine showing peaks during my morning and evening commutes, and when I leave my desk for lunch. The default goal is 10,000 steps, or about 9km, each day, but frustratingly this cannot be changed. The app can also track your weight - either by you entering the data manually, or by syncing with Withings' smart bathroom scales, sold separately - and even your heart rate by using the iPhone's rear camera and flash.
Daily iOS notifications tell you how you're getting on; they state when new records are set on busy days, or offer gentle reminders to be more active when you've spent a whole day watching Netflix in bed.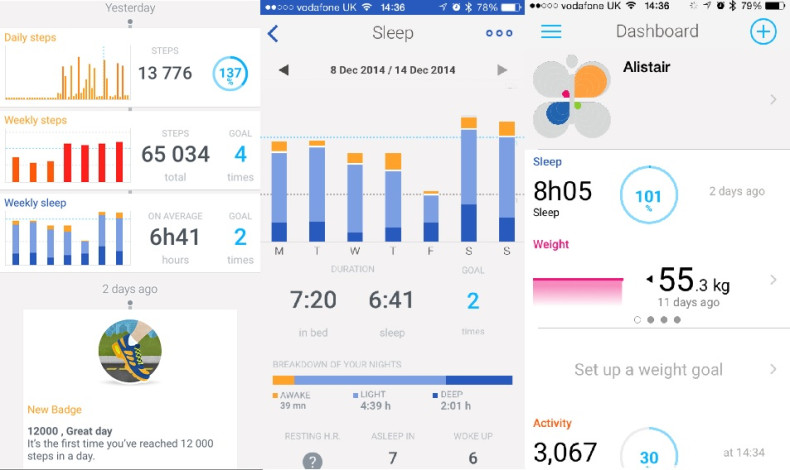 You can also use the app to set a silent alarm, whereby the watch vibrates to wake you up. This works effectively, but you can only set the time and not day of the alarm, so you'll have to remember to turn it off on the weekends. The watch vibrates several times, but can't be stopped early. A double tap of the watch should show the time the alarm is set for, before the hands return to the current time a few seconds later, but I found this to rarely work first time.
Another problem is how the watch alarm and app notifications don't communicate with each other, so one morning when my alarm was set for 9am, the app sounded an alert with a Withings notification at 7:30am. You'd think the app would know to be quiet, given I'd set a late alarm that day.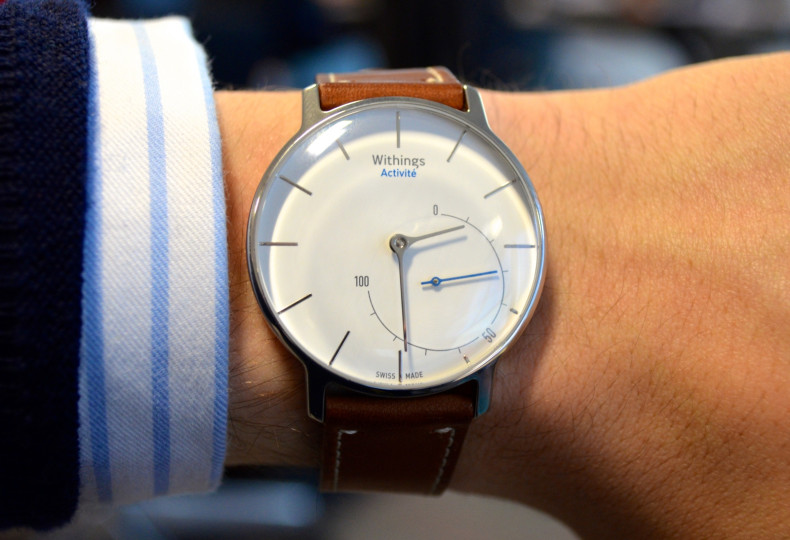 I found sleep monitoring to be very accurate, with it correctly stating when I went to bed and when I woke up. The app plots light sleep and deep sleep on a bar graph each morning; it also records how long it took you to fall asleep and how many times you woke up during the night. The app suggests you get eight hours of sleep each night, but as with the daily step target this goal cannot be changed.
Syncing between watch and app is done automatically every time you open the app, but it's quite slow and can take a minute or so to pair over Bluetooth and update.
Withings Activité: Battery Life
The Activité may lack the touchscreen and notifications of other smartwatches, but where they struggle to last a full day before needing a recharge, this one runs for eight months on a standard watch battery. A tool included in the box makes the case easy to open.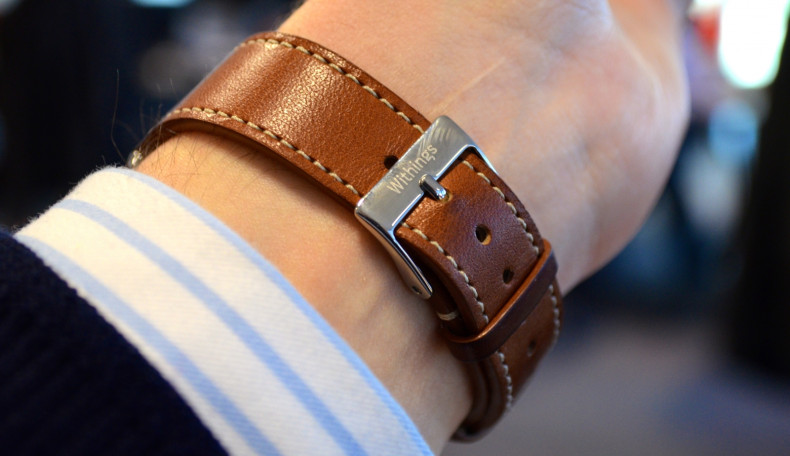 Withings Activité: Verdict
The Activité is exactly what I want from a smartwatch. It looks fantastic and records movement and sleep without compromising on design or battery life. The app is free, simple to use and provides just the right amount of information - although a little more customisation and snappier syncing would be welcome.
I'd also like the option of setting alarms at different times on different days, while the lack of Android support is frustrating for now, but will apparently be added soon.
At £320, it's more expensive than other smartwatches, and will be about on par with the entry level Apple Watch when that arrives early next year.
It may not have the household name of Apple or Samsung, or the plethora of usual smartwatch features, but instead the Activité does something far more important - it proves less really can be more.
Withings Activité Scores:
Design: 9/10 - Beautiful unisex watch, but may feel too small for some.
Build Quality: 10/10 - Nothing to fault at all, built to last.
Software: 7/10 - Works well, but is iOS only, could do with more features like multiple alarms and can sometimes be slow to sync.
Features: 7/10 - No notifications, but movement and sleep tracking work perfectly; extra strap a bonus.
Overall: 8/10 - Beautiful and built to last, the Activité is best-looking smartwatch yet, but lacks Android compatibility.
The Good:
Great design and build quality
Accurate movement and sleep tracking
Waterproof
Fits conventional straps
The Bad:
No Android support at launch, but coming soon
No option for multiple alarms
Relatively expensive