The CEO of the company behind the stylish Activité fitness trackers believes smartwatches give wearables a bad name because their terrible battery life means they are not really wearables at all.
The last 12 months have seen the smartwatch platform explode, with Android Wear powering numerous flashy watches with touchscreens, while Apple unveiled its long-awaited competitor, which will go on sale later this year.
At CES 2015 in Las Vegas this week there are dozens more smartwatches vying for consumers' attention but one company doing things a little differently is Withings, with its Activité products that combine old-school watch design with hi-tech sensors.
The latest addition to the range is the Activité Pop, a cheaper version of its flagship model but with the same eight-month battery life, which Withings CEO Cedric Hutchings believes is the single more important aspect of wearable devices.
Speaking to IBTimes UK in Las Vegas, Hutchings said his company's products were not smartwatches but were smarter watches.
Giving smartwatches a bad name
"Provided that you get the convenience of the [smart]watches, then they are here to stay but [Withings] are not in the category of the quote 'smartwatch', which is an extension of the smartphone - in a way [these products] give the smartwatch a bad name - it is not about wearability."
Asked if he considers the Activité range smartwatches, Hutchings said he would rather refer to it as the "new face of activity trackers".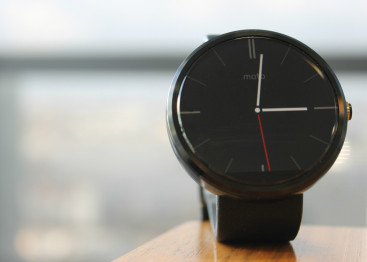 The company's chief said the media has focused the smartwatch category around devices produced by the large smartphone manufacturers, such as Samsung, Apple and LG.
Hutchings believes that to call the likes of the Apple Watch or the Motorola Moto 360 a wearable is a misnomer as the short battery life means customers cannot wear them all the time.
Just like normal watches, the Withings Activité has a long battery life with the company promising up to eight months before you will need to change the battery.
This, according to Hutchings, is the most important aspect of a wearable. He said: "You are referring to something, a certain user experience [wearing a watch] and it is very hard to sell the fact that now something you have been knowing for centuries need to be recharged."
Hutchings points out the products on the market are just the first generation of these devices and he "expects the next generation of smartwatch to be more diverse".
He also expects others to follow Withings' lead and go down the route of "less is more" in terms of what a smartwatch can do, while also believing the watch industry will get on board by including tracking sensors in their own devices.