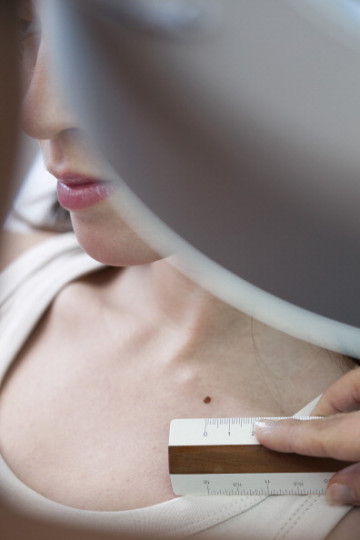 A high number of moles on women's skin may be indicator of nascent breast cancer, two studies have found.
According to the American and French papers, both published in the PLOS Medicine journal, the more moles a woman has, the greater her average risk of developing breast cancer.
One study, conducted by the Indiana University Simon Cancer Centre in Indianapolis, looked at data on more than 74,000 female nurses in the US.
The women were part of a 1986 long-term research project known as the Nurses' Health Study. The women - aged 40 to 65 - were asked to count the number of moles on their left arm.
Over the next 24 years, almost 5,500 women were diagnosed with breast cancer.
Women with 15 or more moles on a single arm were 35 % more likely to develop breast cancer than women with no moles, among whom 8.5% developed breast cancer.
Women with one to 14 moles fell in between, with almost 10% developing breast cancer.
The team, led by Jiali Han, considered a range of other factors such as women's ages, lifestyle habits, weight, skin tone and sun exposure.
The researchers said the reason behind the connection between moles and breast cancer might be estrogen.
"[The moles] could be a marker of lifetime exposure to estrogen," said Barbara Fuhrman, an assistant professor at the University of Arkansas for Medical Sciences in Little Rock.
"This is very interesting biologically, but it probably doesn't tell us a lot about an individual woman's risk of breast cancer," Fuhrman added. "It probably tells us more about the general etiology [causes] of breast cancer."
In the second study, which followed nearly 90,000 French women aged 40 to 65, moles were linked to an increased risk of cancer only among women who developed breast cancer before menopause.
Also the French study suggested hormones or genes could explain the link between moles and cancers.
Dr Subhakar Mutyala - associate director of the Baylor Scott & White Cancer Institute in Temple, Texas, who was not involved in the research – said there is still no valid reason why women with a lot of moles should start breast cancer screening earlier or have it more often.
"It's not clear how this would fit into current screening recommendations," Mutyala said.
Moles are already associated with skin cancer.