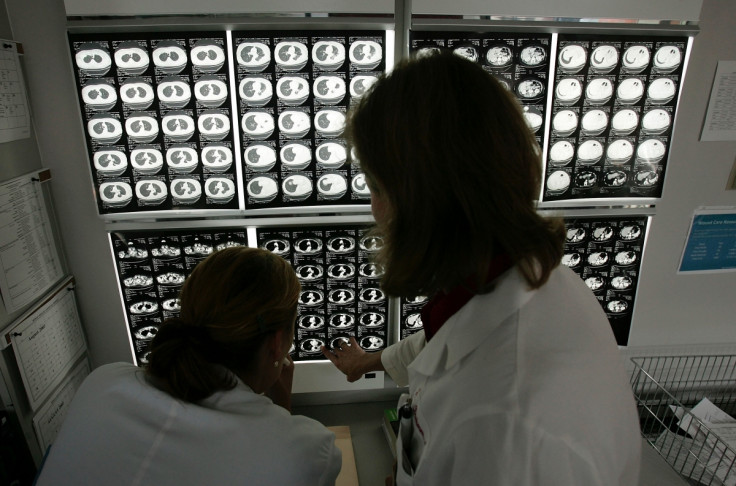 On average, half of all people born after 1960 in the UK are expected to be diagnosed with a form of cancer at some point in their lives, Cancer Research UK (CRUK) has claimed, but rates of survival are on the increase.
Figures published in the British Journal of Cancer – which come from a paper featuring suggestions from CRUK, as featured in the Guardian – show that one in two people are to develop cancer in their lifetime, highlighting the need to support NHS health services to cope with an ageing and growing population. Ahead of World Cancer Day 2016, which takes place on 4 February, we look at cancer prevalence and survival rates.
Why are survival rates improving?
Thanks to better diagnostics and treatments, earlier diagnoses and greater awareness of symptoms and risks, survival rates for most cancers are improving. Around half of people diagnosed with cancer in England and Wales survive their disease for 10 years or more, according to CRUK. Cancer survival is higher among women than men, but overall survival is improving and has doubled in the last 40 years in the UK. Survival rates vary between cancer types, ranging from 98% for testicular cancer to just 1% for pancreatic cancer. Many of the most commonly diagnosed cancers have 10-year survival rates of 50% or more.
Researchers highlight the need for more to be done to improve survival rates for cancers of the brain, lung and oesophagus, which have relatively low survival rates.
However, further research shows that many people with cancer have other health concerns that also impact upon their lives. Research by Macmillan Cancer Support published in 2014 shows that only one in five women with breast cancer and one in four men with prostate cancer are expected to survive both long-term and in good health. The remaining long-term survivors would have to cope with other serious health conditions such as heart, kidney or liver disease, develop another type of cancer or have their cancer return.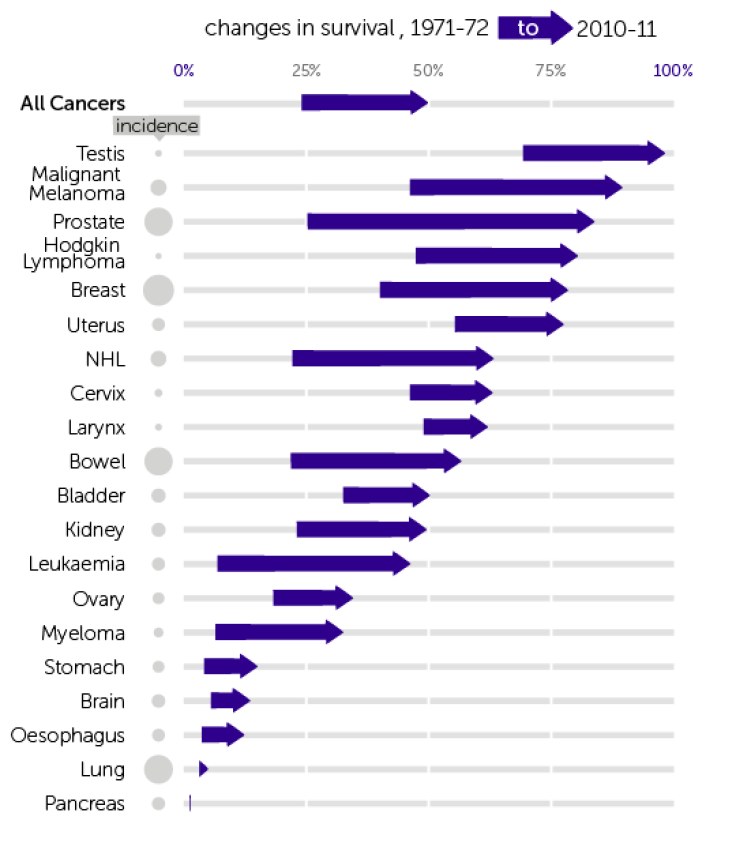 Why are cancer rates increasing?
One of the biggest factors is age. More than three-quarters of all people diagnosed with cancer in Britain are over the age of 60 – and as the population ages, the risk increases. "Cancer is a disease of our genes – the bits of DNA code that hold the instructions for all the microscopic machinery inside our cells," Greg Jones has written for Cancer Research UK. "Over time, mistakes accumulate in this code – scientists can now see them stamped in cancer's DNA. And it's these mistakes that can kickstart a cell's journey towards becoming cancerous."
Author of the British Journal of Cancer study, Professor Peter Sasieni of Queen Mary University of London, said: "Cancer is primarily a disease of old age, with more than 60% of all cases diagnosed in people aged over 65. If people live long enough then most will get cancer at some point. But there's a lot we can do to make it less likely – like giving up smoking, being more active, drinking less alcohol and maintaining a healthy weight. If we want to reduce the risk of developing the disease, we must redouble our efforts and take action now to better prevent the disease for future generations."
What are the key cancer risks?
Scientific research shows the risk of someone developing cancer depends on a combination of our genes, our environment and aspects of our lives. According to Cancer Research, experts estimate that more than four in 10 cancer cases could be prevented by lifestyle chances such as not smoking, maintaining a healthy body weight, cutting back on alcohol, eating a healthy diet, keeping active, avoiding certain infections such as HPV, being careful when in the sun and avoiding cancer risks in the workplace.