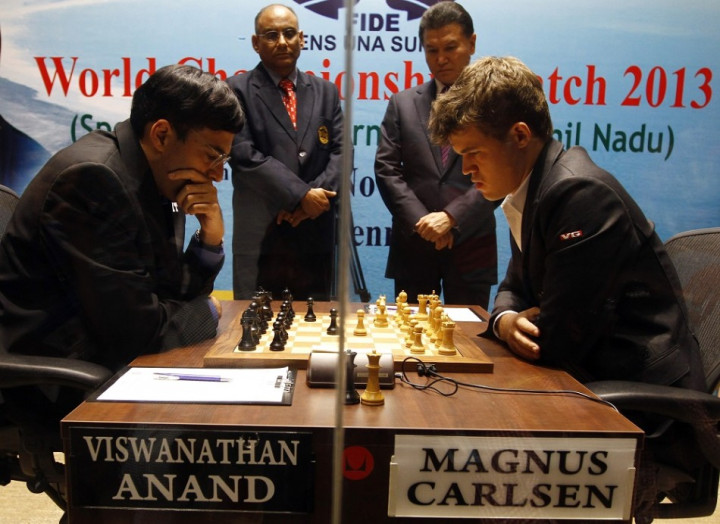 Game 4 of the 2014 World Chess Championship between Indian chess Grandmaster Viswanathan Anand and defending champion Magnus Carlsen has ended in a draw at the Main Media Center in Sochi on Wednesday.
The 23-year-old, who started Game 4 with white pieces lost the previous game, which gave the five-time world champion to level the score after the end of the third game. Anand had a good start on Wednesday, until his opponent's 18th moves, Nxc6 bxc6, followed by c4 in the 19th move gave Carlsen the advantage.
After the completing of 25 moves, it did look that the world No 1 is likely to avoid defeat as draw or win for him was the cards. Carlsen was trying to bore Anand and slowly drag him towards defeat with a decisive move.
However, the Norwegian was unsuccessful in doing it quickly as both players had a Knight, Queen, King and five pawns after Rooks disappeared from the board in the 31st move. Anand looks to attack as he cancel his Knight, which also see him give away black Knight in the process.
Both players were pressing hard to make sure they could exchange the pawns with a stronger piece. Anand had a very good chance one of his pawns was in d4. However, the Indian was unable to move it to the other end.
Game 4 was one of the most entertaining clash between Anand and Carlsen in this year's World Chess Championship. It should be seen if the same excitement will be seen in the upcoming games.
The scores are level at 2-2 after Game 4 and there would be a rest day on Thursday, giving both players an equal opportunity to have enough time to prepare for the fifth game.