World Chess Championship 2014 Game 2 Result: Carlsen Draws First Blood After Defeating Anand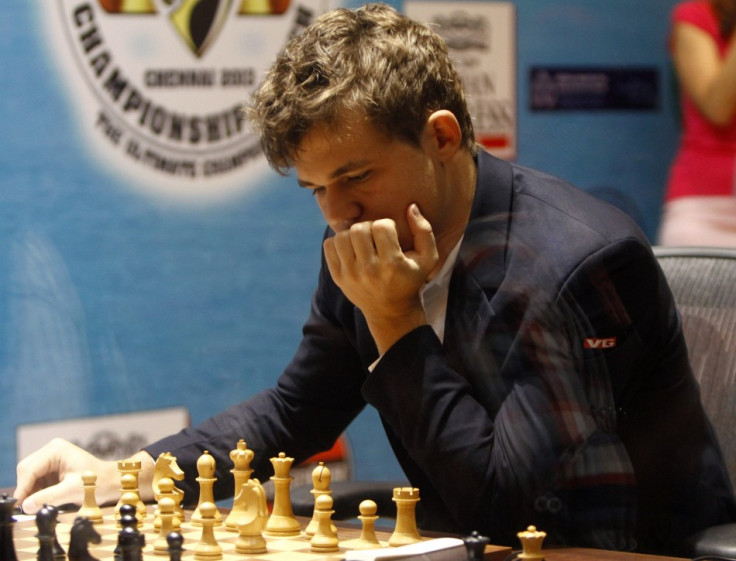 Defending champion Magnus Carlsen has taken the lead in the 2014 World Chess Championship after defeating Viswanathan Anand in Game 2 at Main Media Center in Sochi on Sunday.
The Norwegian was playing with white pieces after starting Game 1 with black. The first game ended in a draw and Carlsen has 1-5.-0.5 lead over the Indian.
The 23-year-old started the Sunday's tie on a brighter note, while Anand was playing very safe early in the game.
The match ended in the 35th move as the World No 1 made sure he did not give any room for Anand to come back into the game after he made an error in the 20th move.
After the error from Anand mid-way through the game, the defending champion made sure that he did not force any mistake from his side in order to give the 44-year-old any chance to make a comeback in the game.
The Indian chess Grandmaster is yet to win even a single game against Carlsen in the World Chess Championship and the latest defeat will only give psychological advantage for Carlsen for Game 3.
Monday ail be a rest day and the next game will be held on 12 November, Tuesday. Both players will relax and hoping to comeback stronger in the next game.
© Copyright IBTimes 2023. All rights reserved.