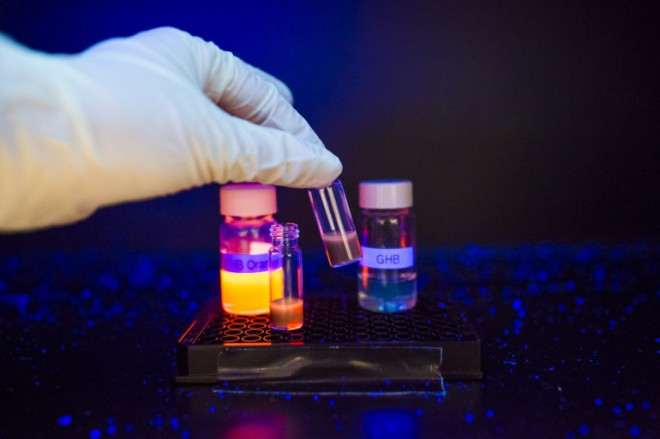 Researchers have developed the world's first fluorescent sensor that can detect a common date rape drug in less than 30 seconds.
Scientists from the National University of Singapore have said the test can identify the presence of an odourless, colourless drug known as Gamma-hydroxybutyric acid (GHB), which is commonly used to spike drinks.
When the sensor is mixed with a sample of a beverage which contains the drug, it changes colour to make detection fast and easy.
GHB is one of the most commonly used date rape drugs. Although it is odourless and colourless, it has a salty taste due to its sodium form. However, it is easy to add to drinks that mask the flavour, in particular, alcoholic drinks.
Professor Chang Young-Tae, of the department of chemistry at the NUS, told the Daily Mail: "The current method in the market is using a kind of paper to run the paper chromatography separations.. The problem is, to run those samples - the paper chromatography - it takes about 10 minutes of your time. Currently, we are using the test tube kind of approach, but who would want to bring this to the discotheque?"
He told Global News: "We wanted to develop something that would give results within several seconds, so you can check whether it is a safe drink or whether you should stop and think again. As GHB is odourless, colourless and slightly salty, it is almost undetectable when mixed in a drink, thus making it desirable to sexual predators."
The team screened 5,500 dyes generated from different fluorescent scaffolds. The shortlisted 17 fluorescent compounds and further tested them with a wide range of different GHB concentrations.
The team identified that an orange fluorescent compound, dubbed GHB Orange, changes colour when it is mixed with GHB.
GHB Orange was then tested for its detection capability by mixing a small amount of it with sample of various beverages, including alcoholic, non-alcoholic, coloured and clear drinks - which all contained GHB.
The results showed differences in the intensity of the colour between GHB-free and GHB-spiked beverages. In drinks that are translucent or of a light colour, such as water or vodka, the change in colour can be easily detected with the naked eye.
The change in the colour of darker drinks requires the aid of additional lighting to better detect the change.
While the research marks progress in the technology, there is still a need to develop a test kit which is convenient for users to carry around.
GHB is a central nervous system depressant that has been used medically as a general anaesthetic, yet when a victim is spiked with it, they are rendered incapacitated and vulnerable to sexual assault. The drug takes affect within 15 to 30 minutes and the effects can last between three to six hours.
Although it can be detected in hair, it is only detectable in urine six to 12 hours after ingestion - and many victims may not recall the rape until some time afterwards. Some urine test kits are available over the counter, but only detect date rape drugs that are benzodiazepines, which GHB is not.