World's First 'Race War' Revealed in 13,000-Year-Old Skeletons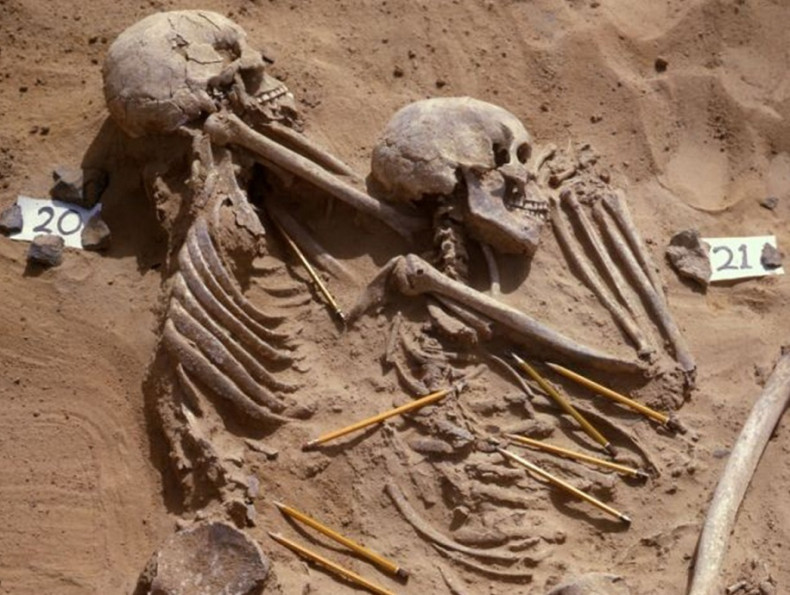 Scientists are studying what may be the oldest identified race war, 13,000 years after it took place on the borders of the Sahara desert.
Scientists have been working on skeletons from Jebel Sahaba in northern Sudan, one of the earliest organised burial grounds in the world dating from around 11,000 BC.
Experts from Liverpool John Moore's University, the University of Alaska and Tulane University in New Orleans, who are working on the skeletons believe the victims were ancestors of modern Black Africans.
Although the identity of their killers is harder to uncover, research suggests they may have been part of a North African/Levantine/European people who inhabited the Mediterranean Basin. Northern Sudan was a major ethnic interface between these two groups at the time.
The majority of the human remains show wounds from archers using flint-tipped arrows, giving archaeologists an insight into one of the world's oldest known human armed conflicts between groups.
Two skeletons, belonging to men who died in the battle, will be put on display in the new Ancient Egypt gallery at the British Museum , alongside the weapons with which they were killed.
The remains were found in 1964 by the American archaeologist Fred Wendorf, but until recently had never been examined using 21st-century technology.
French scientists believe the massacre happened because of the environmental disaster of the Ice Age, which caused the attackers and victims to live in close proximity to one another.
Renee Friedman, curator of early Egypt at the British Museum, told The Times that both groups were hunter-gatherers who normally avoided violence by moving on when a certain area became overcrowded.
The Younger Dryas period, also referred to as the Big Freeze, led to water holes receeding and caused damage to vegetation. All ethnic groups were forced to relocate to the Nile, which was the only major water source still available.
"Things were probably very tight, so we think that people started picking on one another," Friedman said. "I suspect there was no outside enemy, these were tribes mounting regular and ferocious raids amongst themselves for scarce resources.
"Nobody was spared: there were many women and children among the dead, a very unusual composition for any cemetery, and almost half bore the marks of violent death. Many more may have died of flesh wounds which left no marks," she added.
The skeletons were originally unearthed during UNESCO-funded excavations to investigate archaeological sites that were about to be replaced by the Aswan High Dam.
"The skeletal material is of great importance – not only because of the evidence for conflict, but also because the Jebel Sahaba cemetery is the oldest discovered in the Nile Valley so far," Dr Daniel Antoine, a curator in the British Museum's Ancient Egypt and Sudan Department, told the Independent.