The world's tallest water slide in Kansas is to be razed following the death of a 10-year-old boy earlier in 2016. Caleb Thomas Schwab, the son of Republican member of the Kansas House of Representatives, Scott Schwab, died after suffering a fatal neck injury on 7 August.
Schwab was riding the 168ft-tall Verrückt raft ride at the Schlitterbahn water park in Kansas City when the "freak" accident occurred. The ride, which featured multi-person rafts dropping 17-storeys at speeds of up to 70mph, followed by a surge up a hump and a 50ft-descent to a finishing pool, has been closed since the tragedy.
Now, the theme park's owners have confirmed that the ride will be torn down once investigations into the boy's death have been completed.
"In our opinion, it is the only proper course of action," a spokesman for the park said in a statement posted to Facebook, adding that staff at the park had been left "heartbroken".
"In our 50 years of providing an environment for families and friends to gather," the statement read, "we've never experienced this kind of devastating event."
The park's owners, who own four other resorts and theme parks, will wait until court approval before demolishing the ride, reports the Kansas City Star.
Caleb had been visiting the park with his father and his mother, Michele, and was one of three passengers riding a boat on the slide. Two other riders, both women, were injured in the incident.
The Verrückt slide - which translates as "crazy" in German - had an age limit of 14 and people riding the attraction were required to be taller than 54in (137cm). Lawyers for both the injured women and the Schwab family are independently investigating the accident.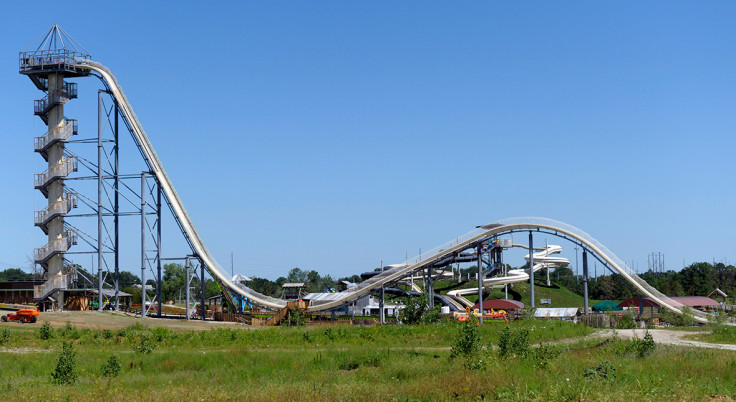 At present, no lawsuits have been filed and Lynn Johnson, an attorney for the two women, said in August of this year that his clients wanted "answers and assurances from Schlitterbahn that the slide will be corrected or not continue to be in operation".
The state Department of Labor released a document after the incident, revealing that all of Schlitterbahn's rides passed private inspections in June, according to CBS News.