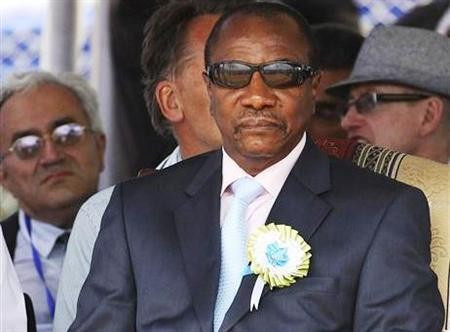 President Alpha Condé escaped two attacks on his residence, it was reported on Tuesday.
The assault that authorities linked to former senior officers in the army left at least three people dead.
The attacks renewed international concerns about the stability of the impoverished West African country.
According to a senior police official a former army chief dismissed by Mr Condé, above, days after he came to power last December had been arrested in relation to the attacks. "Our enemies will not be able to stop Guinea's progress," Mr Condé said.
President Alpha Condé was woken by the shooting, which erupted around his residence between 3am and 5am.
Reports say that a rocket-propelled grenade landed inside the compound, destroying part of it.
One of his bodyguards was killed and several others wounded, said François Louceny Fall, Condé's chief of staff. Condé, 73, addressed state radio saying his security detail had "heroically fought" until reinforcements arrived.
He called on the population to remain calm and said the attack would not derail the promises he made to voters seven months ago when he became the first democratically elected leader in Guinea's 52-year history.
Just hours later however, shooting broke out again near his home, confirming the President's enemies were still hoping for a successful coup.
The international community invested millions of dollars in last year elections, in an attempt to secure transparent and fair votes, insisting the once coup-riddled region was now much more stable.
After the troubled elections in Ivory Coast that saw former President Laurent Gbagbo refuse to leave power to his rival and elections winner Alassane Ouattara for months, a coup in guinea would prove to be a major setback for East Africa.
Condé's relationship with the military is tense , as the two struggle for power, and the ethnic tensions that were revealed by the vote are only getting worse.
Cellou Dalein Diallo, the Peul politician who lost to Condé, said in May left Guinea to live in exile as he no longer felt secure at home. His house has been repeatedly visited by Malinke soldiers in what Diallo claims is an intimidation attempt.
Just last week, a group of Malinke farmers killed 1,200 head of cattle belonging to Peul herders after a dispute over land use, it was reported.
"Military violence is something that deeply frightens us," said Sidya Toure, who came third in last year's vote. "We lived through this in 2008, and again in 2009. What it shows is that apparently there is a problem. There are things that remain unfinished."